Category Archives:
Transport+Urban Design
This page contains blog posts and articles, in chronological order, relating to urban design + transport
Cycling
Photos
Sustainability
Transport
Transport+Urban Design
Travel
Urban Design
Will
2017, December 9 – 14:17
Barcelona in Spain is a city that suffers air pollution, much of it from transport.
Reducing dependence on cars for short trips is one way of tackling pollution, so on a visit there I looked at one of Barcelona's tactics in weaning short journeys off the car: Superblocks. Here are some photos from my visit to the Poblenou neighbourhood.
Above: Called superilles or 'superislands' in Catalan, the concept is that up to nine contiguous blocks are joined together and traffic within these blocks is restricted, as this diagram shows.
Above: The entrance to the Superblock is made with colourful road paint, signs and road furniture.
Above: The interior of the block is made liveable with benches and colourful road paint. Cars travel in one direction only and at very low speeds. The entire Superblock is planned out in fine detail before construction, from the travel directions of all modes of transport to road signage, furniture and games. 8,000 square meters of open space were freed up by creating this Superblock.
Above: Car traffic is restricted to local-access journeys only, and internal streets of the Superblock use a one-way system that allows acccess only in certain directions to certain blocks, so if you're taking your car into the Superblock interior, you have to think through where you're going. Through journeys -and short trips by car generally- are discouraged.
Above: Contraflow markings, low speed limits, scooter parking and vehicle charging station. The original plan was that superblocks would cover the entire Barcelona city area by 2018, though resistance from some residents has threatened progress. The five-circles flower symbol on the planter is taken the traditional panot paving sett used on footpaths throughout Barcelona.
Above: Electric vehicle charging station. These are now common in cities throughout the EU.
Above: Contra-flow cycle concept in junction. Most traffic is one-way, but cycle users can travel in both directions. The low speed limits mean this layout is relatively safe without any physical separation between directions. The internal streets are provided with the same contra-flow layout.
Above: Block interior is made very comfortable. As this photo shows the community are really making use of this space. Previously it would have been entirely dedicated to parking and driving of cars. Helmet use by people on bikes is common in Spain but not mandatory for adults in built-up areas.
Above: Little kids playing confirm the liveability of this space! A dad feeding his baby on one of the benches confirmed to me that these were mostly local kids. He also said that resistance to the concept was largely down to poor consultation by authorities with locals. It does seem to me that, for someone used to very convenient car use, the new layouts must take some adjustment.
Above: Planters help shelter the play areas; bike-share station can just be seen on left; bike parking and 'motos' parking for motorbikes.
Above: The principal signage. Where motorised vehicles are permitted, speed limits are very low.
Above: Outdoor games! Polbenou is part of the geometrically-planned area of Barcelona, where repetitive rectangular blocks have been laid out with distinctive diagonal chamfers, widening each junction to form a minor civic space. Poblenou has undergone a major re-generation in the past decade or so. Many buildings are new.
Above: Funky street furniture. 200 architecture students collaborated to design the Superblock features.
Above: Back to reality! Superblock ends here. But the two-way bike lane visible beyond is of good quality and not atypical for regular Barcelona streets. The man here is on one of Barcelona's Bicing bike-share machines.
I flew in and out of Barcleona, which perhaps made me contribute more than my fair share to its air pollution. From the plane I could see the smear of brown smog that often hangs over the city. I hope that Superblocks help to make that sky a bit clearer, and I hope to take the train next time.
Will Andrews (CAN Exec Volunteer) June 2017
Information from Barcelona authorities- http://ajuntament.barcelona.cat/qualitataire/en/noticia/the-poblenou-superblock-fills-with-life
___
Cycling
Public Transport
Transport
Transport+Urban Design
Urban Design
2017, February 28 – 09:47
I wasn't aware of this research by Botma and Papendrecht.  A striking set of figures.
Cycling
Photos
Public Transport
Transport
Transport+Urban Design
Travel
Urban Design
Will
2016, June 13 – 20:19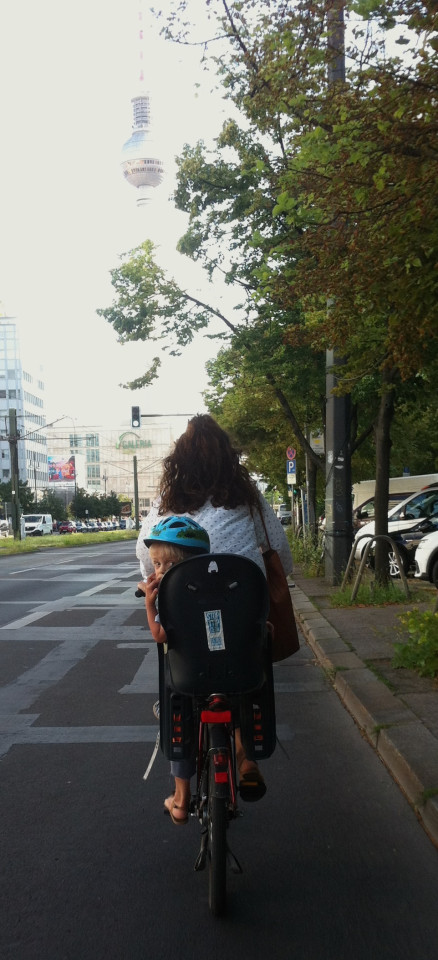 Typical Berlin scene
We stayed in Neukölln, an inner suburb of Berlin, for a few weeks and looked at cycling infrastructure and how cyclists seemed to be faring.
Cycling
Photos
Transport
Transport+Urban Design
Travel
Urban Design
Will
2016, June 3 – 06:50
I took some snaps of the beautiful cyclists of Barcelona -2016- May and June.
The experience of cycling here seems a bit of a patchwork, as in many big cities.  Some segregated lanes have been built, some two-way -at the side of larger streets, or sometimes along the street centreline.  But a typical ride would seem to involve a bit of painted lane very close to moving cars & vans, up & down the footpath for a few hundred metres, a quiet street where you'll roll slowly to share with pedestrians, and some nice segregated lanes along a multi-lane arterial road.  Then you'll be left to fend for yourself on a stretch of one-way road, sharing with buses and trucks.
[Continues below image]
Above- Great to be young & on a bike!  Much of the Born and Barrí Gotic areas are 30 km/h.  Streets there are so narrow that enforcement seems to be unnecessary.
Transport+Urban Design
Travel
Will
2016, March 25 – 22:26
I was very lucky to be sent to VéloCity Global conference in February 2016 by my colleagues at Cycling Action Network in New Zealand, and Cyclist.ie in Ireland.
Cycling
Transport
Transport+Urban Design
Travel
Urban Design
Will
2016, March 25 – 22:10

Every second year there's a global get-together for all those interested in the promotion of cycling. Transportation experts, mayors, town councillors, consultants for 'liveable cities', documentary film-makers -and of course cycling advocates- attend the Vélo-city Global Conference.
The European Cycling Federation organises the event, and this year it was held in Taipei, Taiwan. VéloCity Global alternates with the European-focussed VéloCity Conference. Next year this event will be in Nijmegen, Holland – the home of cycling for entirely different reasons, and the next VéloCity Global will be in Rio de Janeiro. read more »
Cycling
Transport
Transport+Urban Design
Will
2016, March 25 – 18:47
Here are the presentations made on behalf of CAN to VéloCity Global conference, 2016.
Presentation 1-  Thoughts on  Advocates (PDF, 2.7Mb)
http://willandrewsdesign.com/wordpress/wp-content/uploads/2016/03/Advocates.pdf
Presentation 2-  Thoughts on NZ Policy (PDF, 3.1Mb)
http://willandrewsdesign.com/wordpress/wp-content/uploads/2016/03/NZ-Policy.pdf
Humour
Transport
Will
2016, March 16 – 20:44
I wonder what's upsetting them?  Pricey oil?  Peak car?  Maybe all those cycle lanes… NO!  I have it.  30 km/h zones.  My mash-up of front grille designs of Ford family cars, 1950's to 2010's-
Cycling
Transport
Transport+Urban Design
Urban Design
2015, August 17 – 12:53
Submission to Nelson City Council on Long Term Plan 2015-25 
April 2015
Dear Nelson City Council,
Thank you for the opportunity to make a submission on the important topic of the Long Term Plan.  I write, in a personal capacity, as an urban designer, architect, and resident of Stoke.
Introduction
'Physical inactivity is the new smoking', health promotion specialists are now saying1. Almost 1 in 3 New Zealand adults are obese, and a further 34% are overweight2.
Meanwhile, 49% of Kiwis' trips to work are 5km or less3 -easily short enough to be done by bike- but 74% of work trips are done by car.  The figures for Nelson are not much better, and tragically, the statistics for our kids' journeys to school are just as bad.
So the effective promotion of cycling, and active transport in general, is a critically urgent priority for Nelson.
Below are comments relating to the five main headings suggested by the Consultation Document- read more »
Architecture
Cycling
Transport
Transport+Urban Design
Urban Design
2015, August 17 – 12:40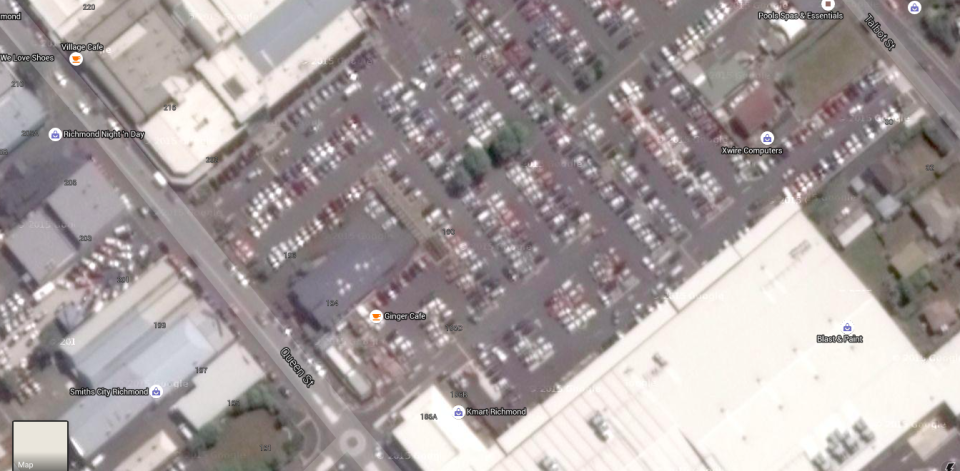 Above photo shows central Richmond, largest town in Tasman District Council. At bottom left is entrance to Tasman District Council, adjacent to the recently installed roundabout.
My submission
is that Tasman District Council must begin, particularly in the larger towns such as Richmond, to switch from facilitating development based on suburban sprawl, to more high-density development, ultimately to building types such as three-storey townhouse developments and mixed-use retail/residential schemes.
Higher density living and working has been shown internationally to allow better use of all our resources, from water to transport. It will particularly facilitate the accommodation of an increased population and the quality of life of an older cohort of residents, who need to live close to local facilities and services and often are less able to drive independently.