Category Archives:
Transport+Urban Design
This page contains blog posts and articles, in chronological order, relating to urban design + transport
Cycling
Photos
Transport+Urban Design
Travel
Will
2019, July 11 – 23:03
Randomish thoughts + snaps from a two-day visit in July 2019 with @patrickmorgan.
Utrecht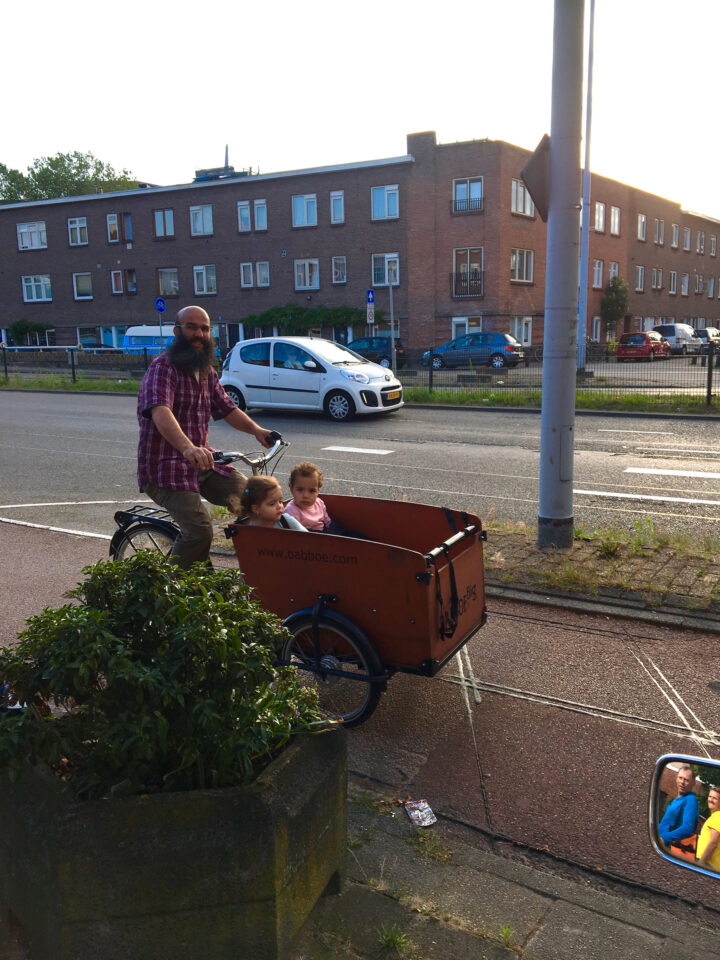 Above- Family biking in Utrecht. So civilised; so normalised!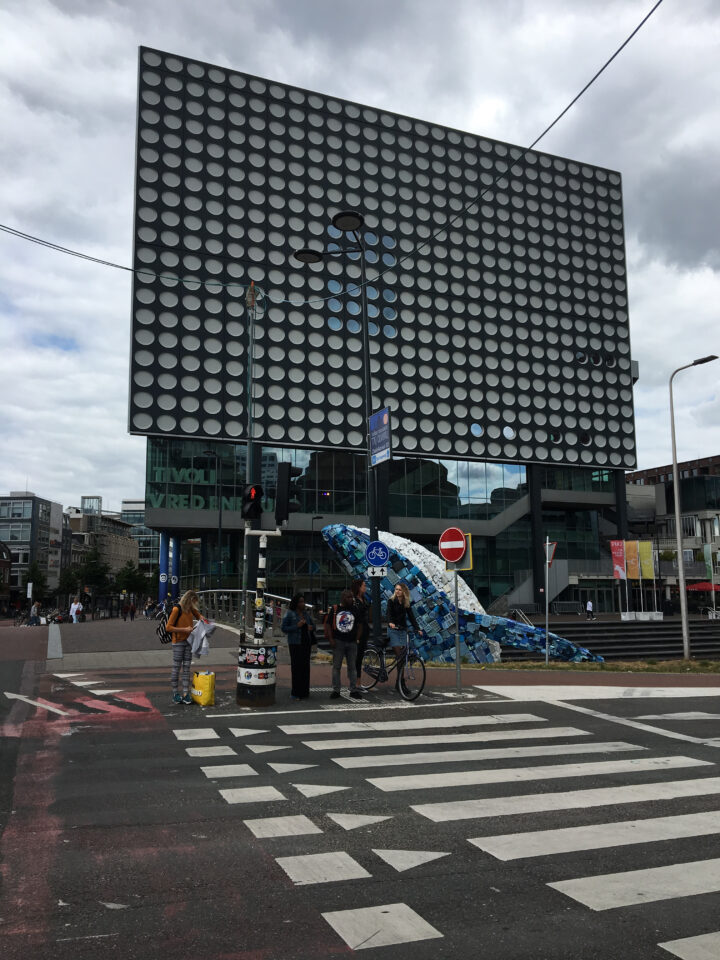 Above- The busiest bike route in the Netherlands, according to Utrecht officials. Leads to Centraal railway station; also the busiest in Netherlands. This photo was taken off-peak, obviously. We biked along here closer to peak time and there were indeed thousands of cyclists using it. And a plastic whale.
Above- Utrecht. A multi-lane road underpass has been recently filled in here, and historic canal reinstated.
Above- Canal-side bikeway in Utrecht with Tim, heading towards Centraal.
Above- Patrick parking his bike near Centraal Station. This facility will be removed when the huge parking garage at the station itself (to house over 10,000 bikes!) is complete.
---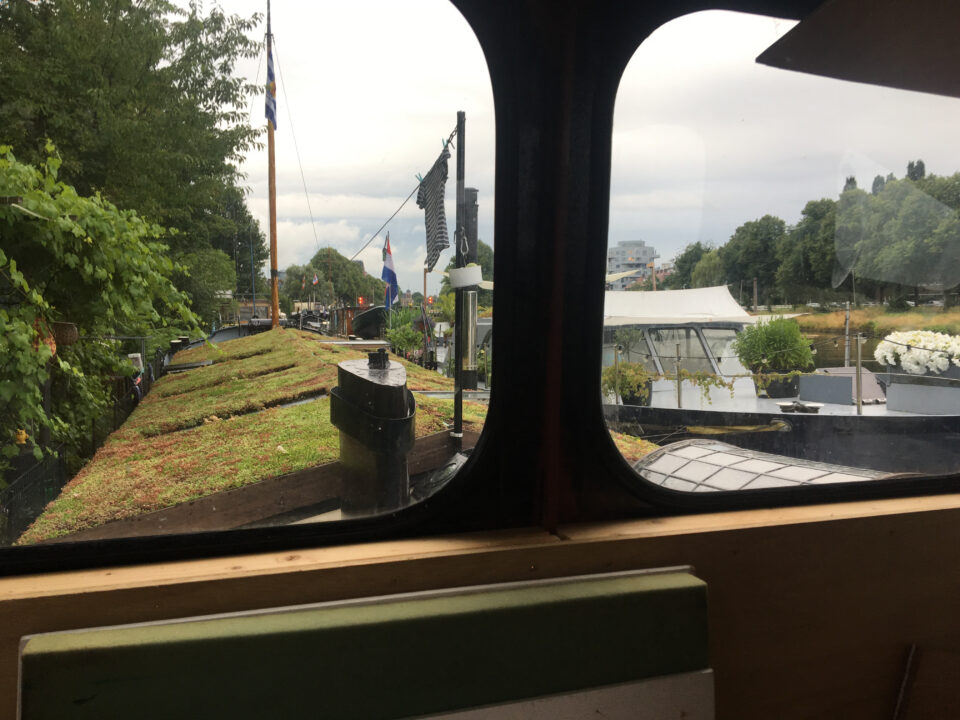 Above- our accommodation in Utrecht courtesy of Tim + Willem via warmshowers.org. They were wonderful generous hosts, and -as professional geographers- incredibly well informed about the local + national context. Amazing guys.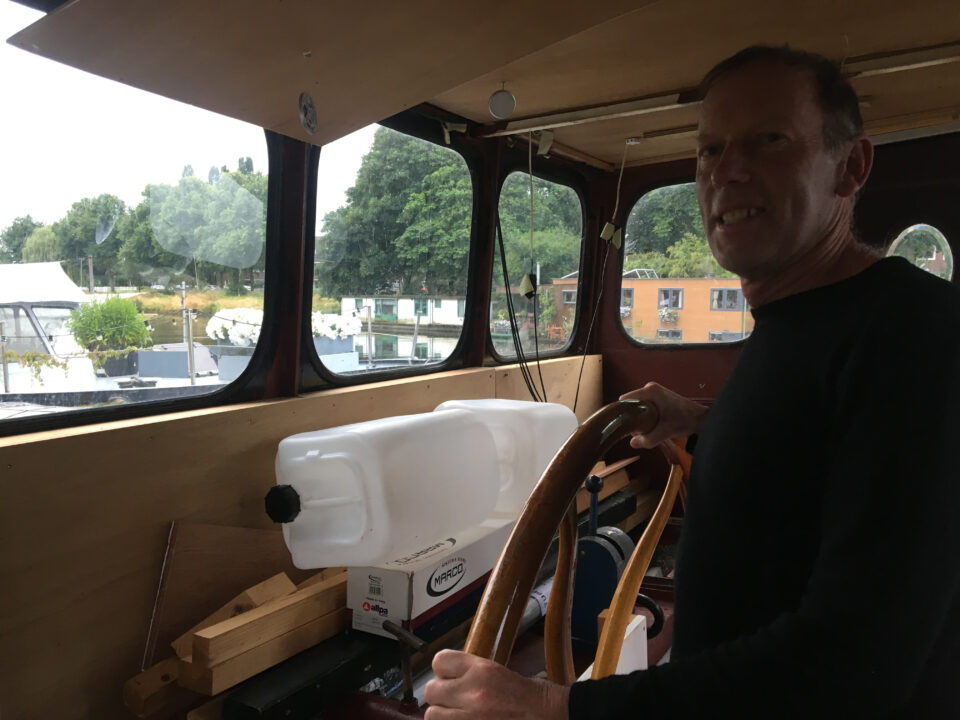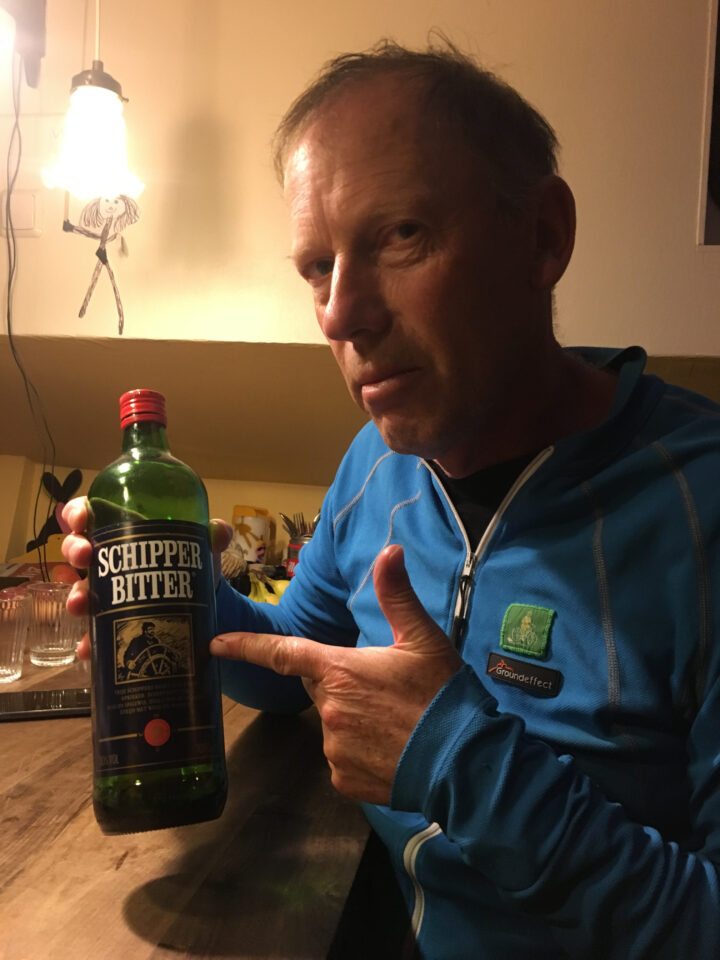 Above- Aboard Tim + Willem's barge in Utrecht, Patrick's skipper fantasies were given free rein….
---
Houten
Above- Houten- The central linear park is the quietest, most efficient route connecting the neighbourhoods of a town I've ever experienced.
Above- Houten- bike parking at main train station
Above- High-speed bike route between Houten and Utrecht. Note small green sticker on street-lighting pole.
Above- Green sticker shows route number and QR code.
Above- Houten- On the roof of a bike recycling centre.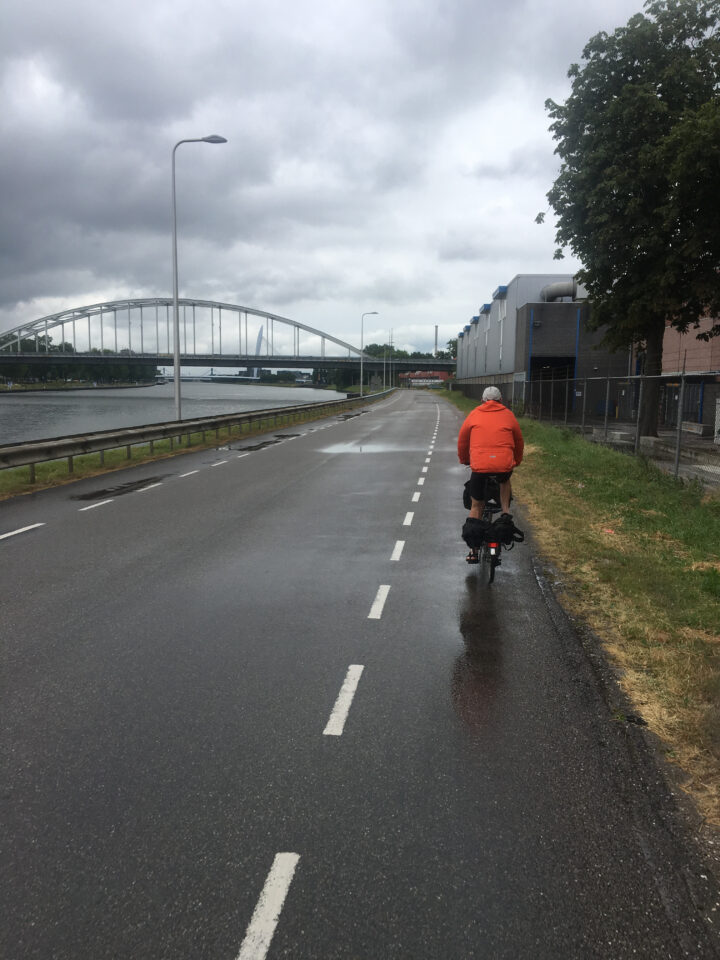 Above- These roads are called 2 + 1 configuration in NZ. While a cyclist occupies the small lane to the right, it's one-way for cars. I did find that some drivers still passed quite close, though never very fast.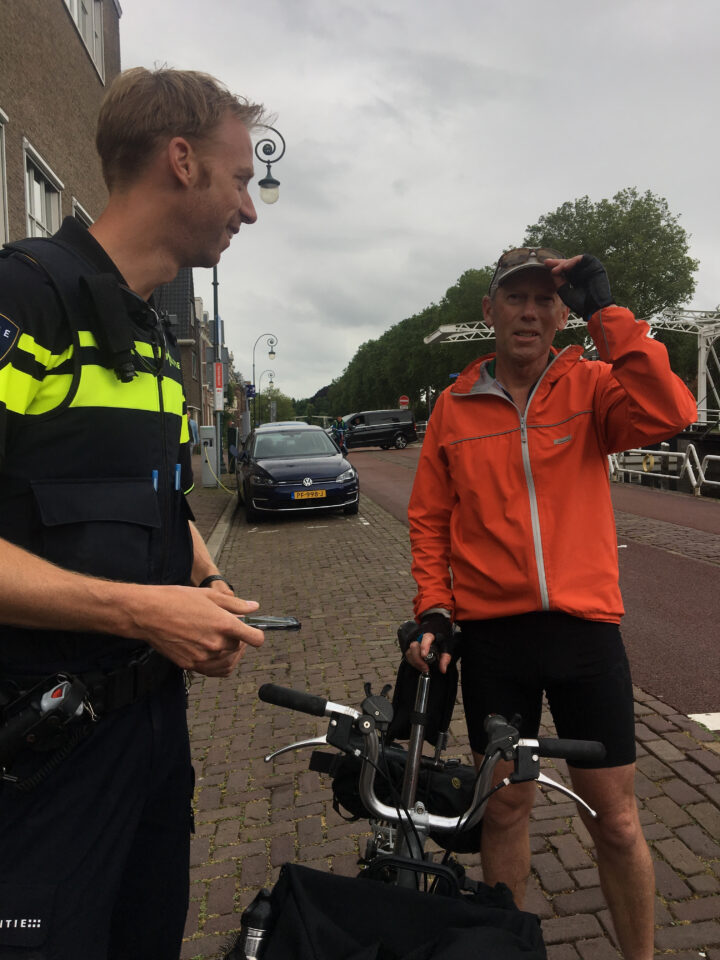 Above- A Dutch police officer hailed us to discuss mobile phone use while biking. It's just been outlawed in the Netherlands and there's a €95 fine. If you think any of these photos were taken with a mobile phone while biking you're completely mistaken.
---
Touring the Netherlands
Above- There may be windmills. Lyneke and Patrick

Above- Touring Netherlands- Lyneke showed us her method of navigating the numbered junctions when biking across country in the Netherlands. Worked well due to good signage, though Lyneke has heard that maintenance of the system is to be discontinued.
Above- Bike touring, but not as we know it. Not many omafiets have to carry a tent.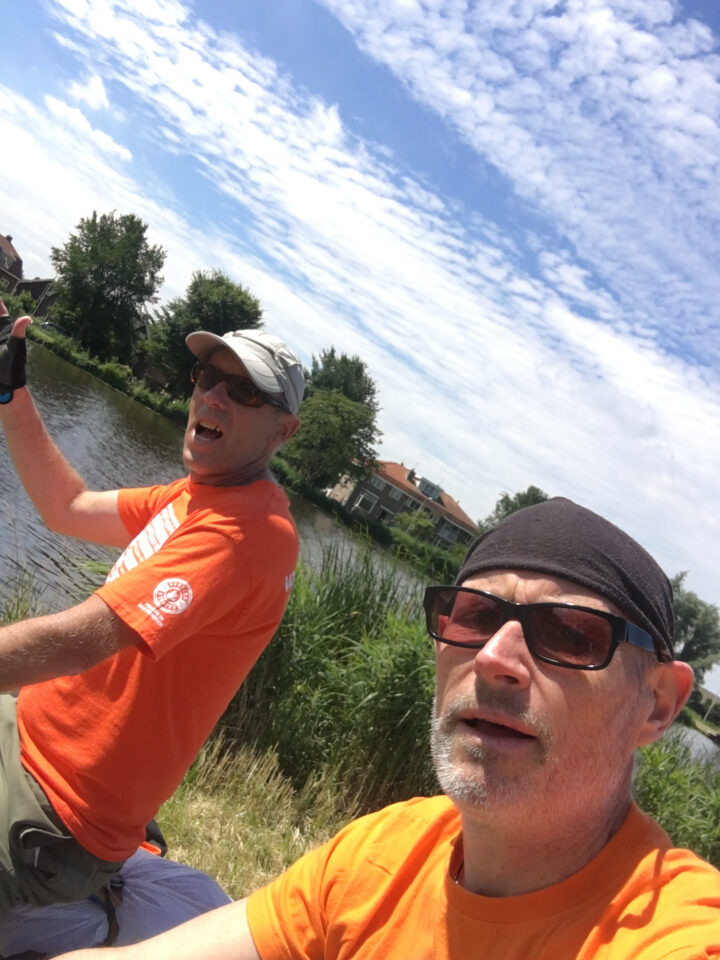 Above- Biking along the Amstel from Amsterdam to Leiden. Routes were well marked and beautifully surfaced. Often shared with motor vehicles but they were generally driven with care.
Above- Google maps said, 'Turn right'. We said, 'There's no right turn, that's the Amstel river!' Just then this wee ferry hove into view.
Above- A glance out the train window between Rotterdam and the Belgian border shows how well Dutch urban planning regulation works. For the population likely to occupy these buildings in NZ or Ireland, the sprawl would likely fill the field in the foreground and carry far beyond.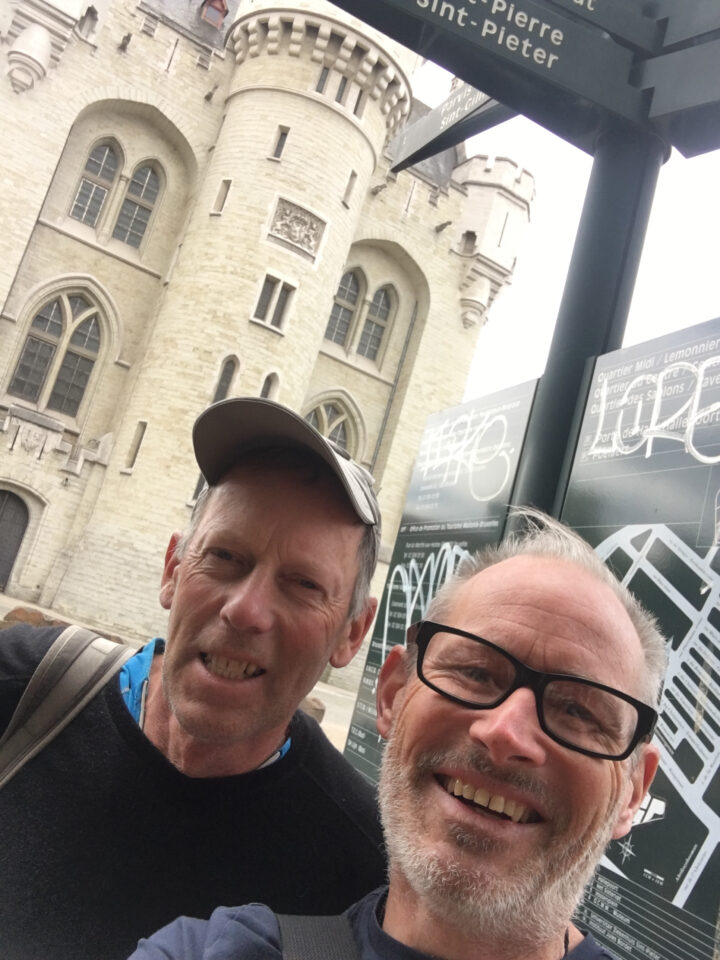 Above- Hopping off the train in Brussels for a quick look round, before taking EuroStar to London. Within walking distance of Brussels Central rail station, the cycling offering looks to be fairly challenging.
Above- Thanks for the good times, Patrick! Our visit coincided with a hugely popular sports cycling event.
Architecture
Photos
Public Transport
Sustainability
Transport+Urban Design
Travel
Urban Design
Will
2018, December 3 – 13:32
Manhattan High Line in late November…
Architecture
Cycling
Photos
Transport
Transport+Urban Design
Travel
Will
2018, November 15 – 01:13
(Above) Paddy Cahill admires Groningen municipal offices
Cycling
Photos
Travel
Will
2018, October 26 – 23:42
Many if not most women -and quite a few men- in Myanmar have light-coloured patterns on their cheeks like these bottle-collecting girls on bikes.
My guidebook says this is Thanakha – a ground sandalwood-like paste, and it acts as a combination of skin conditioner, sunblock and make-up. read more »
Cycling
Photos
Public Transport
Transport
Travel
Will
2018, October 23 – 01:03
Gosh Asia is big. Even the corner of Southeast Asia I've been wobbling through.
Cycling
Photos
Transport
Travel
Will
2018, October 22 – 23:38
Climbing slowly towards the Myanmar border. Some interesting creatures and beautiful scenes.
Architecture
Photos
Sustainability
Transport+Urban Design
Travel
Urban Design
Will
2018, October 17 – 14:40
Cranes everywhere, hoardings on every street and road advertising new houses, offices and apartments: Thailand seems to be developing again with gusto.
Cycling
Photos
Public Transport
Transport
Transport+Urban Design
Travel
Urban Design
Will
2018, October 16 – 03:34
I've been biking round Bangkok now, including the day-and-a-half spent coming in from the countryside, for six days, covering maybe 100km including trips to the camping shop, bike tour hq, embassy and round hotels. The short version: it's terrible!
Architecture
Photos
Travel
Urban Design
Will
2018, October 16 – 03:03
I love these mid-20th-century buildings with a few decades' wear showing. They generally have a good, livable scale that breaks down nicely from city- to home-size.
Cycling
Photos
Transport
Travel
Will
2018, October 10 – 23:22
A few initial impressions after just crossing the border from Cambodia (and why hadn't I found out that Thailand traffic keeps left!?)
Firstly the shock of the smooth: Beautiful surfaces compared to poor Cambodia: