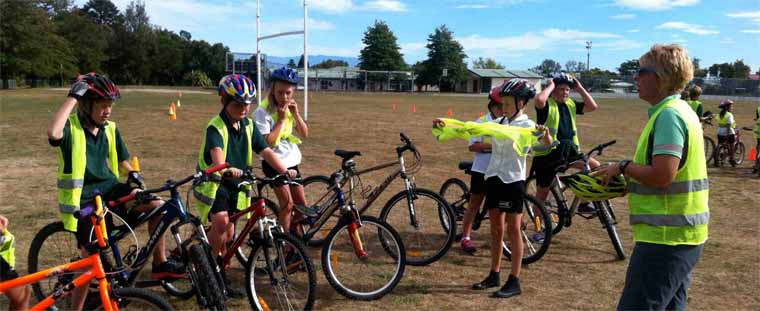 2016 Advocacy work for liveable cities and cycling
Co-chairing CAN Committee, carrying out executive and governance functions;
NextBike Ltd. Assisting delivery of Road User Workshops in Hamilton and Nelson. Working with bus drivers to boost road safety awareness and engage empathy for cyclists;
Research project for Nelson City Council into safety of cyclists sharing road space with heavy vehicles;
Organised & ran Retro Ride, a family fun event in Nelson celebrating cycle our excellent bike paths and reviving past decades when bike were everyday transport;
Assisting with bike fix-ups for Get Moving at Nelson and Tasman district events.;
2015 Resumption of advocacy work
Appointed CAN Interim Project Manager responsible for outreach to local groups around NZ, engagement at national political level, management of mass- and social media;
Volunteer work on Cycle Advocates' Network national committee;
Cycle Skills training;
Organised Retro Ride family fun ride.
2014 Cycle Skills training; presented paper to VéloCity 2014 conference in Adelaide.
2013 Continued delivering Cycle Skills training to schools for Sport Tasman
2012 Qualified as Cycle Skills Instructor to NZQA standard; delivered Cycle Skills training for Sport Tasman
2012 Representative of Bike Nelson Bays, local chapter of Cyclists Advocates Network of New Zealand, on Nelson City Council's Road Safety forum
2012 Represented Dublin Cycling Campaign on Volunteers of Cycling Advocacy (VOCA), an EU-funded multi-national knowledge-sharing network.
2009-12 Chaired Dublin Cycling Campaign
2011 Established Cyclemaps Ireland Ltd. to produce hard-copy maps for cyclists based on 'Cheltenham Map' standards
2009 Commissioned, with Dublin Cycling Campaign, by Department of Transport to prepare report on cycling maps for Ireland.
2007 Commissioned for urban planning and design of Fingal Gateway, approximately 7-hectare site for mixed-use development
2005 Main St Office, Swords completed. Project included new pedestrian street creating cross-linkage in town centre
2003 Joined Dublin Cycling Campaign
1998 Established Will Andrews Design
1997 Work with OMS Architects on apartment projects, urban planning & feasibility studies for large sites in central Dublin
1991 Work with Andy Forrest, town planning consultant, San Francisco
1991 Work as cycling and motorcycle courier in San Francisco
1991 Graduation with uncompleted thesis project, 'A Piece of City', theoretical mixed-use building for central Dublin, built round an indoor market space.
1985 Begin architectural studies in UCD. Work on 'Liffey Quays' Project, progenitor of Group 91 initiative and historic Temple Bar urban regeneration in Dublin
1983- Started commuting by bicycle.
1975-85 Went to school in city-centre Dublin, commuting from rural countryside.  Back then, it wasn't far!