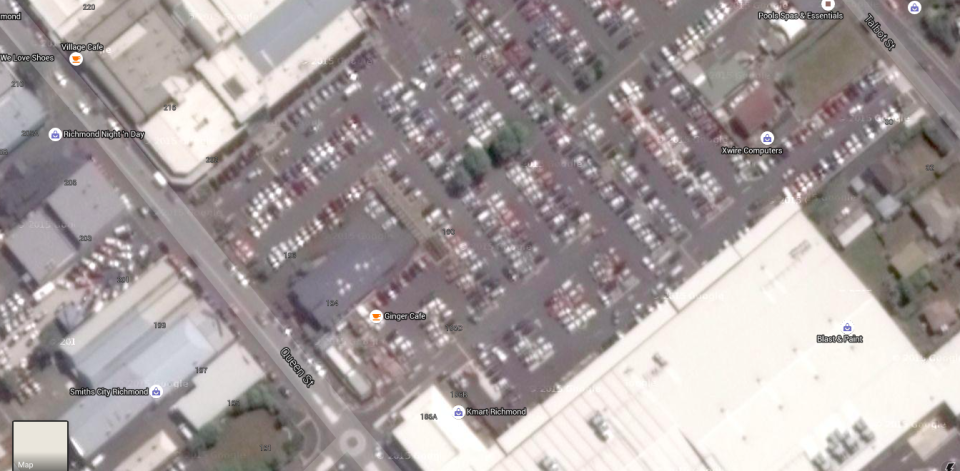 Above photo shows central Richmond, largest town in Tasman District Council. At bottom left is entrance to Tasman District Council, adjacent to the recently installed roundabout.
My submission
is that Tasman District Council must begin, particularly in the larger towns such as Richmond, to switch from facilitating development based on suburban sprawl, to more high-density development, ultimately to building types such as three-storey townhouse developments and mixed-use retail/residential schemes.
Higher density living and working has been shown internationally to allow better use of all our resources, from water to transport. It will particularly facilitate the accommodation of an increased population and the quality of life of an older cohort of residents, who need to live close to local facilities and services and often are less able to drive independently.
As an advocate of transport choice, I must point out that any schemes which rely solely on private car use for access are catering only for 60% of the population who can drive themselves; two out of five people – the elderly, our kids, anyone temporarily disabled, or poor of sight – are denied independence in transport. Clever planning, good public transport, higher-density building, the encouragement of active travel, and curbs on car-dependent developments will all contribute to giving back this independence, and it is these measures which the Council will reap long-term benefits from.
Transport choice also helps physical activity in transport, which counters our horrific obesity epidemic, in which New Zealand is a very unfortunate world leader. This has little effect on rates, but an enormous effect on the financing of our health systems.
I would comment specifically on the Consultation Document's issues as follows-
Rates affordability
Rates increases should be linked to inflation. Council should bear in mind that stricter controls on land use has the potential to increase land values in zoned areas, and thus increase rateable income. Higher-density development likewise, given a higher potential usability per hectare, engenders higher rateable values. The current low-density sprawl of the Council capital, Richmond, is a recipe for poor land values and rate increases. This is not even counting the difficulty of providing services over the long distances that suburban sprawl requires.
Managing the Council's debt- The Council must take a long-term view on the return on investment of assets, bearing in mind the relatively reliable return on investment in property generally. Reduction of debt in the short term may well not compensate in the long term for loss of facilities, income and services provided by many assets.
Developing resilient communities (water security and hazards)
Allowing and facilitating higher-density development will decrease water use by reducing land used per person and irrigation costs.
Managing population growth (land and services and Development Contributions)- Allowing and facilitating higher-density development will maximise existing land availability. I support the option of Council logically extending infrastructure rather than providing for piecemeal development. Feasibility of adjusting the Development Contributions Policy so that developers of higher-density residential (or commercial) construction projects would be advantaged over developers of sprawling schemes.
Specific measures
I would like to submit the following observations on specific measures of the Plan, which are shared with those of the Regional Cycle Forum-
Page 25 CD – I support the proposal that a further section of Tasman's Great Taste Trail between Wakefield and Spooner's Tunnel is planned for construction in 2015 and accept the principle of obtaining matching funds from external providers to assist with development. I am pleased to note that $2.375 million in additional funds is proposed to be allocated for completing Tasman's Great Taste Trail through to Woodstock in the Long Term Plan 2015-2025
Page R4-7 Transport Activity Management Plan – I note there are no targets around cycling (urban cycleways and on-road cycling) and see this as an omission. The Council states earlier (page N2) that its policy is to support the convenience and safety of cycling to increase usage and mode share. The policy goes on to state that cycling forms an important element of a sustainable land transport system and that Council would like to generate a higher volume of cycling trips and cycling safety.
Many thanks for the opportunity to make this submission (via Council's website).