I've been biking round Bangkok now, including the day-and-a-half spent coming in from the countryside, for six days, covering maybe 100km including trips to the camping shop, bike tour hq, embassy and round hotels. The short version: it's terrible!
Above- Typical smaller, neighbourhood street.
Though cities like San Francisco, Taipei and Seoul have started dismantling their urban freeways, Bangkok seems to be still heavily reliant on motor traffic and motorways. Like Taipei there's a small-scale network of low-rise, narrow neighbourhood streets and another network of straight, multi-lane, often one-way arterial-style roads.
So on a bike you can opt to meander slowly through the former, getting nowhere particularly fast, or take your life in your hands and put yourself at the mercy of the high-volume arterials. The latter gets you from A to B alright, but often quite a long way round the one-way systems, and provides quite a scary experience.
Above- Mixed traffic in typical Bangkok neighbourhood. It's either navigate these narrower, congested streets which wind and dead-end or lead nowhere….
…or brave the major arterials like this, above.
Bangkok's a population is 15 million or so. The land is very flat, so no hills, but the weather isn't great for biking- frequently over 30 degrees and very humid. A culture of using small motorbikes means that's the default transport mode: it keeps you cool, gets you there quickly and, with current low interest rates and cheap petrol, is very cost-effective.
Sophisticated Skytrain and subway rail system (not that I've much knowledge of these) appear to form a transport backbone (and exorbitant property values in their catchments, I understand). Various sizes of buses ply every street and there are commuter ferries and even a newish bike-share scheme.
However, on the positive side, the prevalence of all sorts of slow vehicles helps alleviate the feeling you're 'holding up traffic'. Drivers need to expect a huge variety of vehicle types and speeds, and this obviates the 'roads are for cars' mindset.
Above typical small-engined utility vehicle: below tuk-tuk.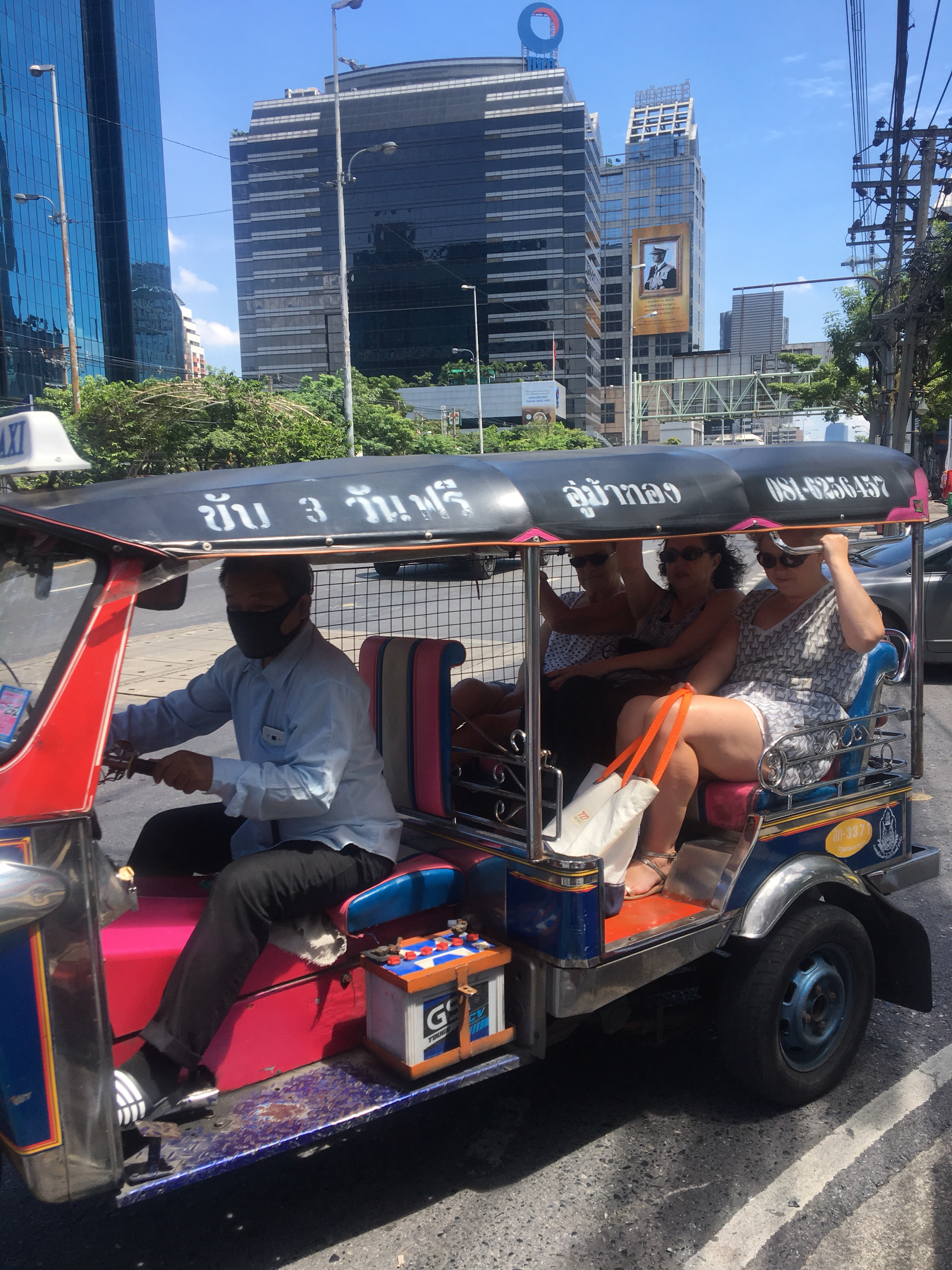 Above- This makes you feel safer even on highways- this pic shows the varied speed limits and vehicle speed signage. (note the pickup truck converted to a passenger bus to right)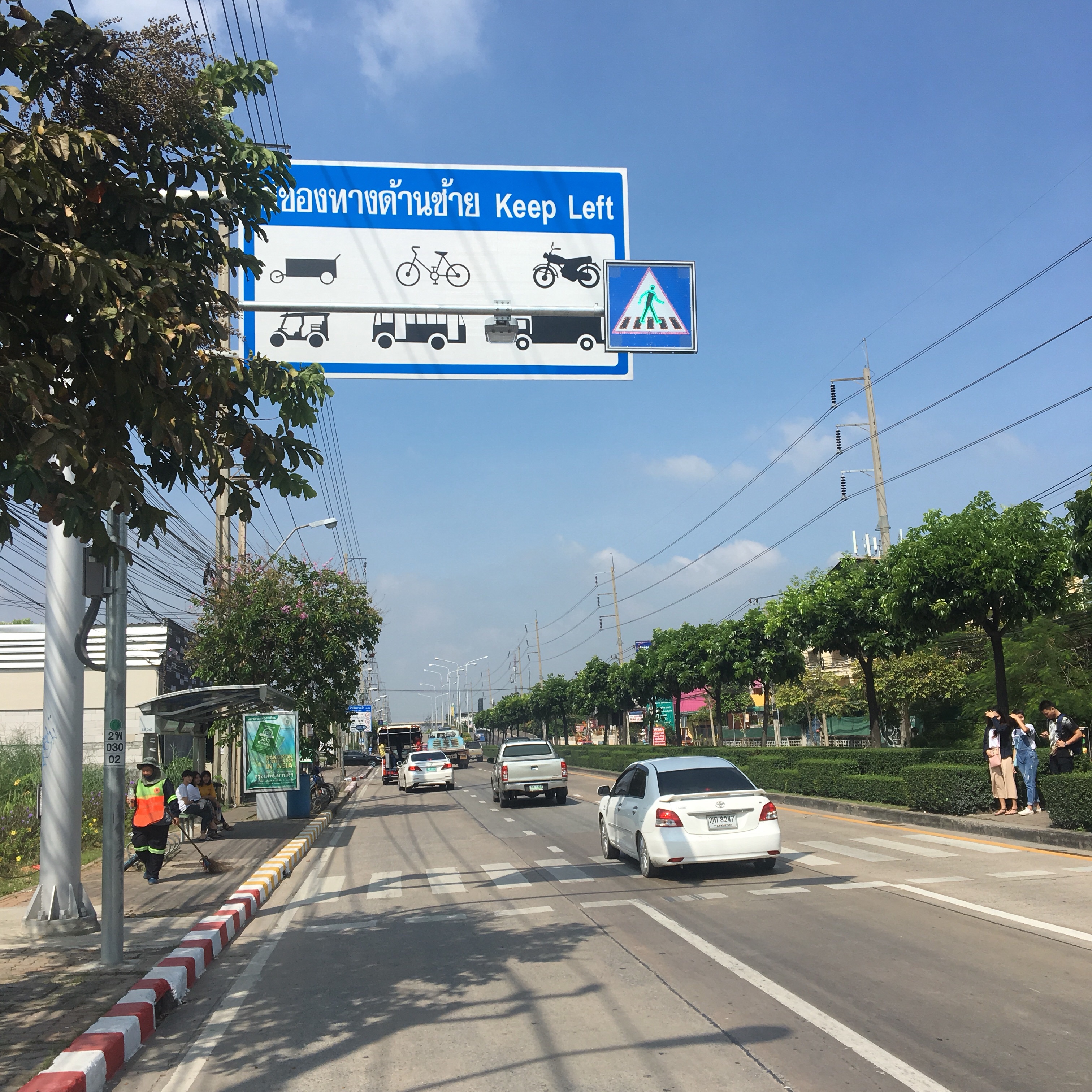 Above- signage reinforces this impression.
The Pun Pun bikeshare scheme is relatively new but in cycling round the last 4 days I haven't seen any bikes in use: certainly the environment wouldn't make me recommend cycling to, say, my niece or mother… I did spy two Ofo bikes, both being used on footpaths.
Above- Deserted bikeshare station was a good spot to give the Giant's chain a clean in a bottle of solvent. No, the pump didn't work unfortunately.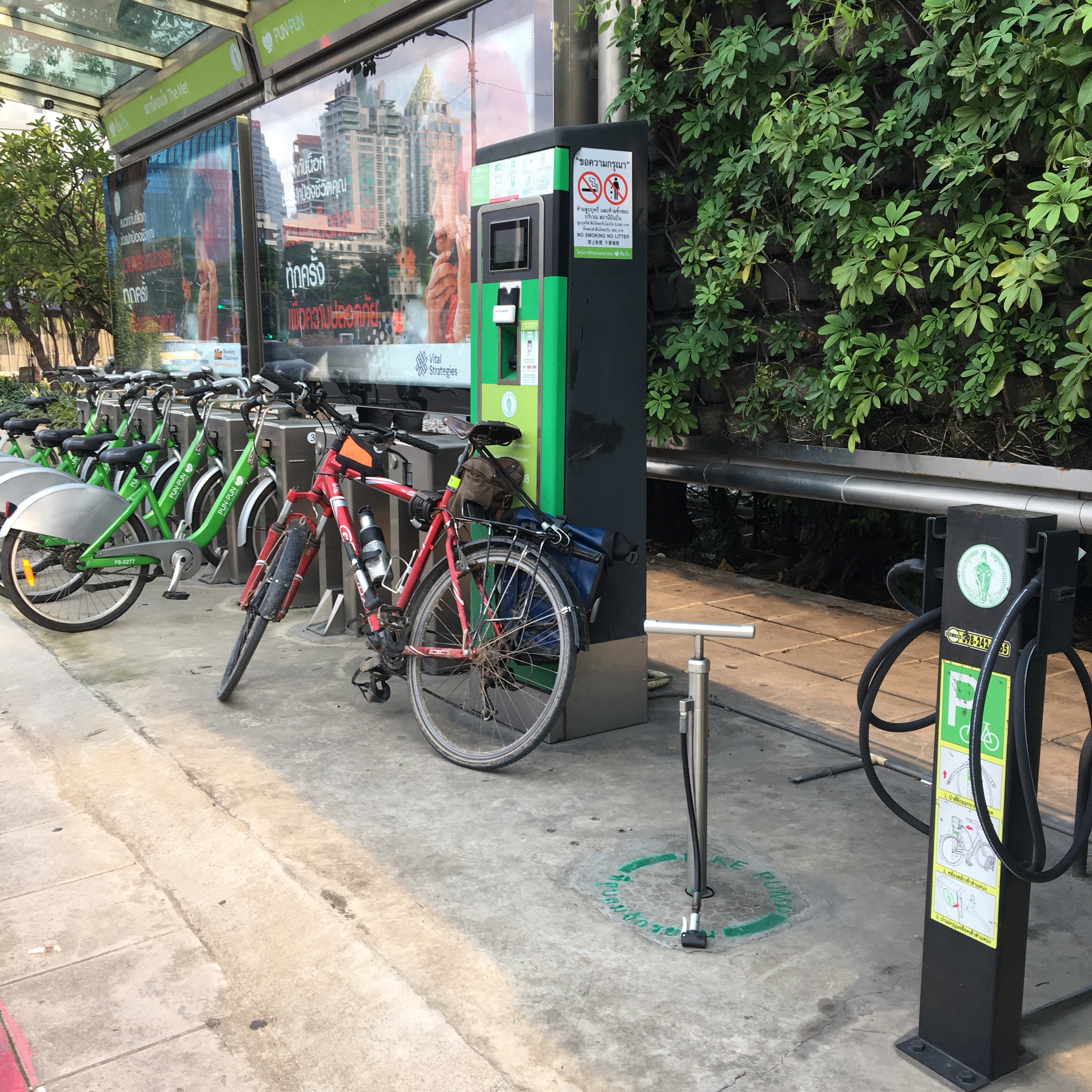 I've seen a few stretches of cycle-specific infrastructure but as you can see the quality isn't very high. In addition they look to be neither enforced not maintained. The wee marker globes light up at night though! …most of them.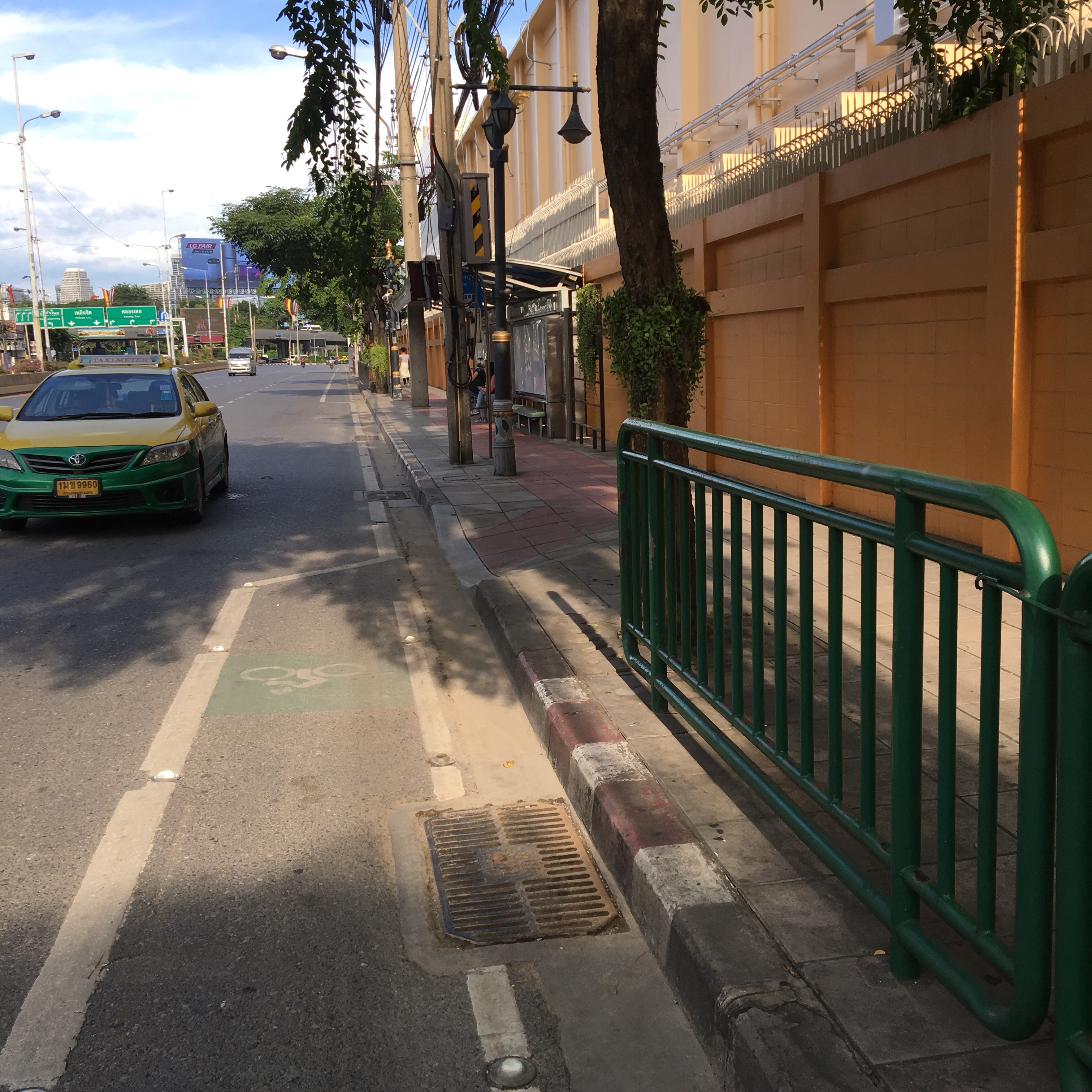 Above- This cycle lane mounts the footpath to allow buses to pull in. But passengers will be alighting & boarding while bus is pulled in, right!? Hmm.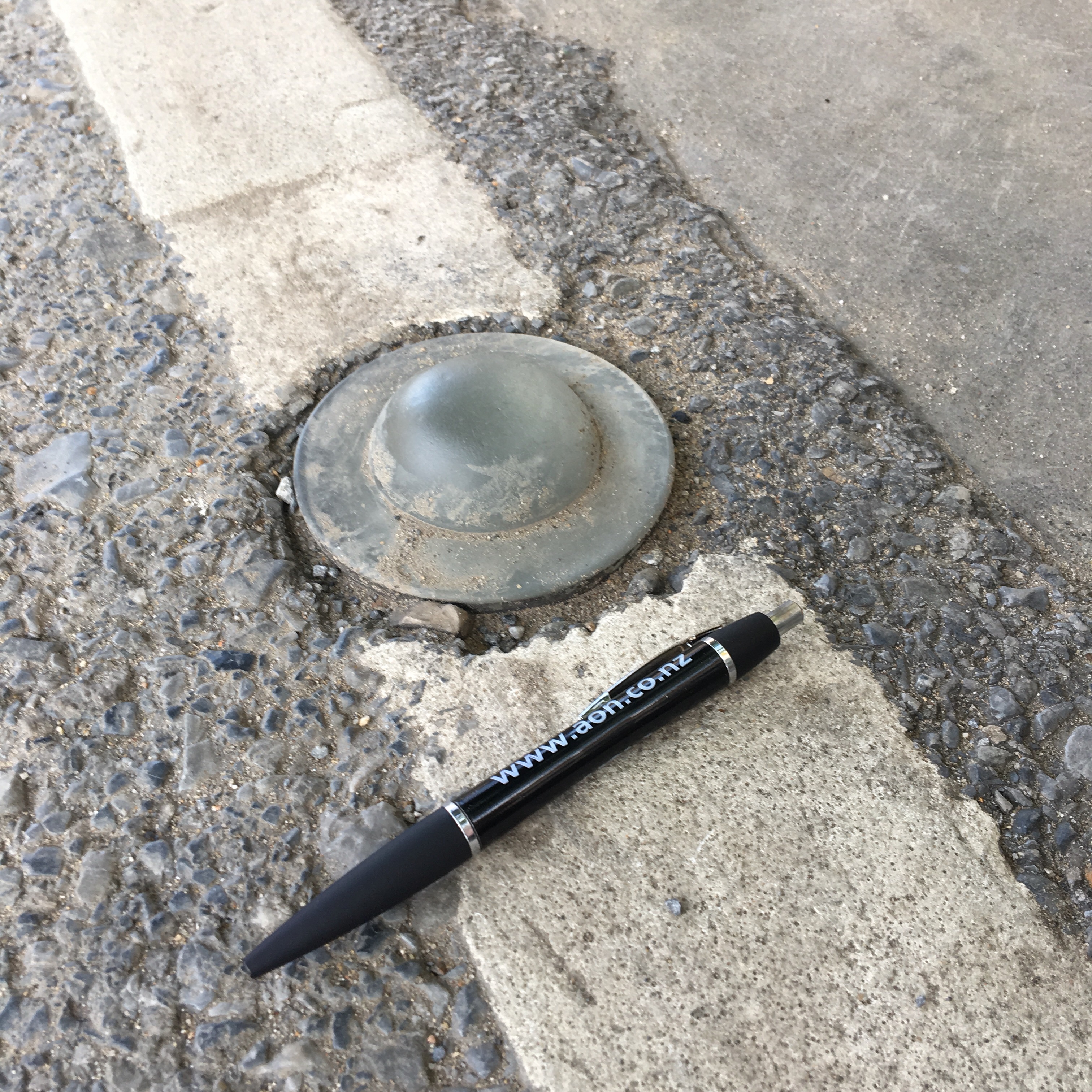 Above- Marker globe at cycle lane.
Above and following images- fairly tokenistic infrastructure that involves sharing with pedestrians. Of use for the 'eco' headed press releases only!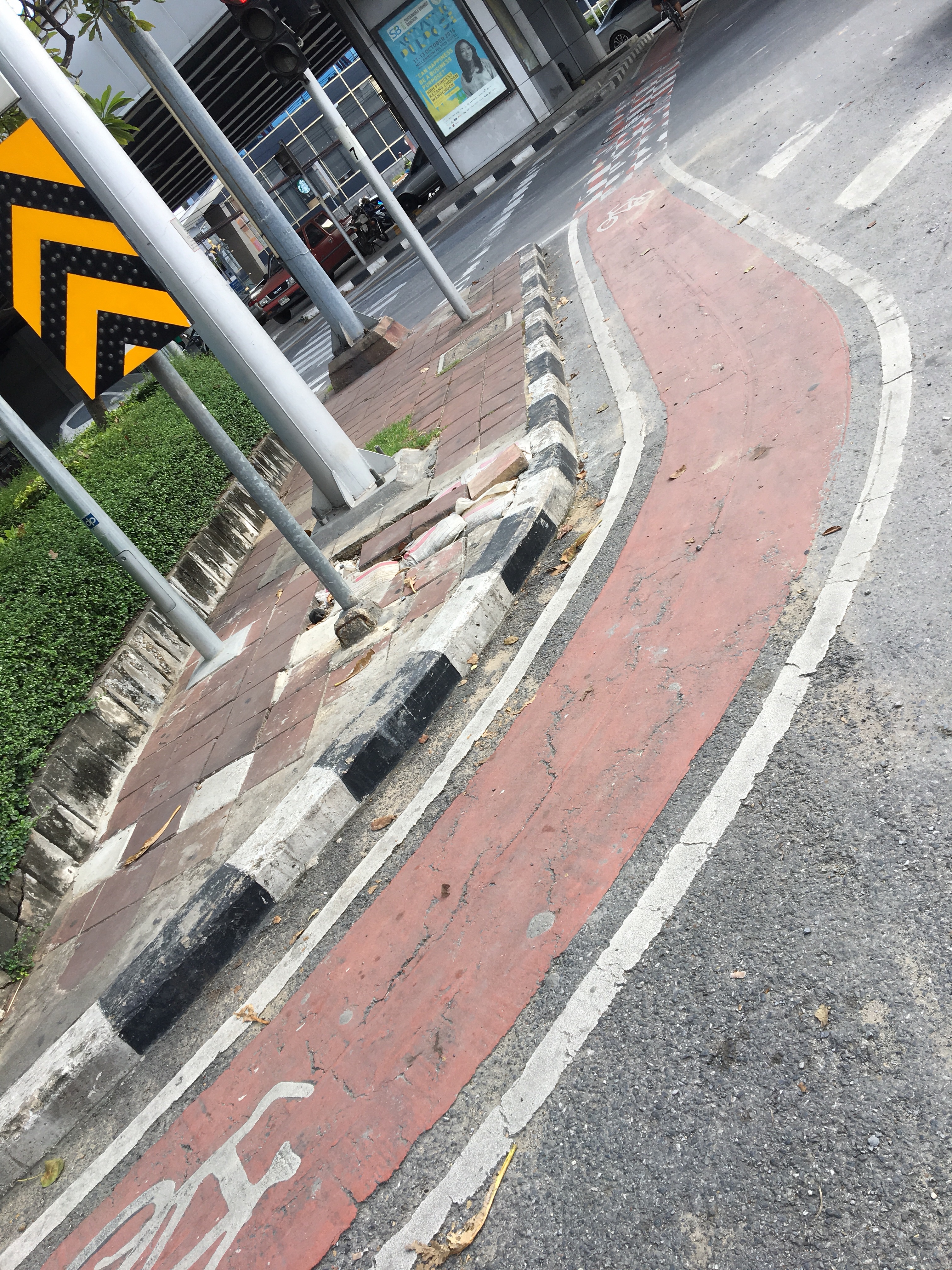 Above- nicely finished section of separated lane, but unconnected with other cycle infrastructure. Below: a good stretch of separated lane in Ko Ratanakosin district, sadly not enforced.
Above- for Asian rainstorms you need serious roadway drainage. Sad that the bumpy gratings are so often right where a bike aligns!
Above- to get from A to B directly often entails using high-speed arterial-style roads. Not relaxing.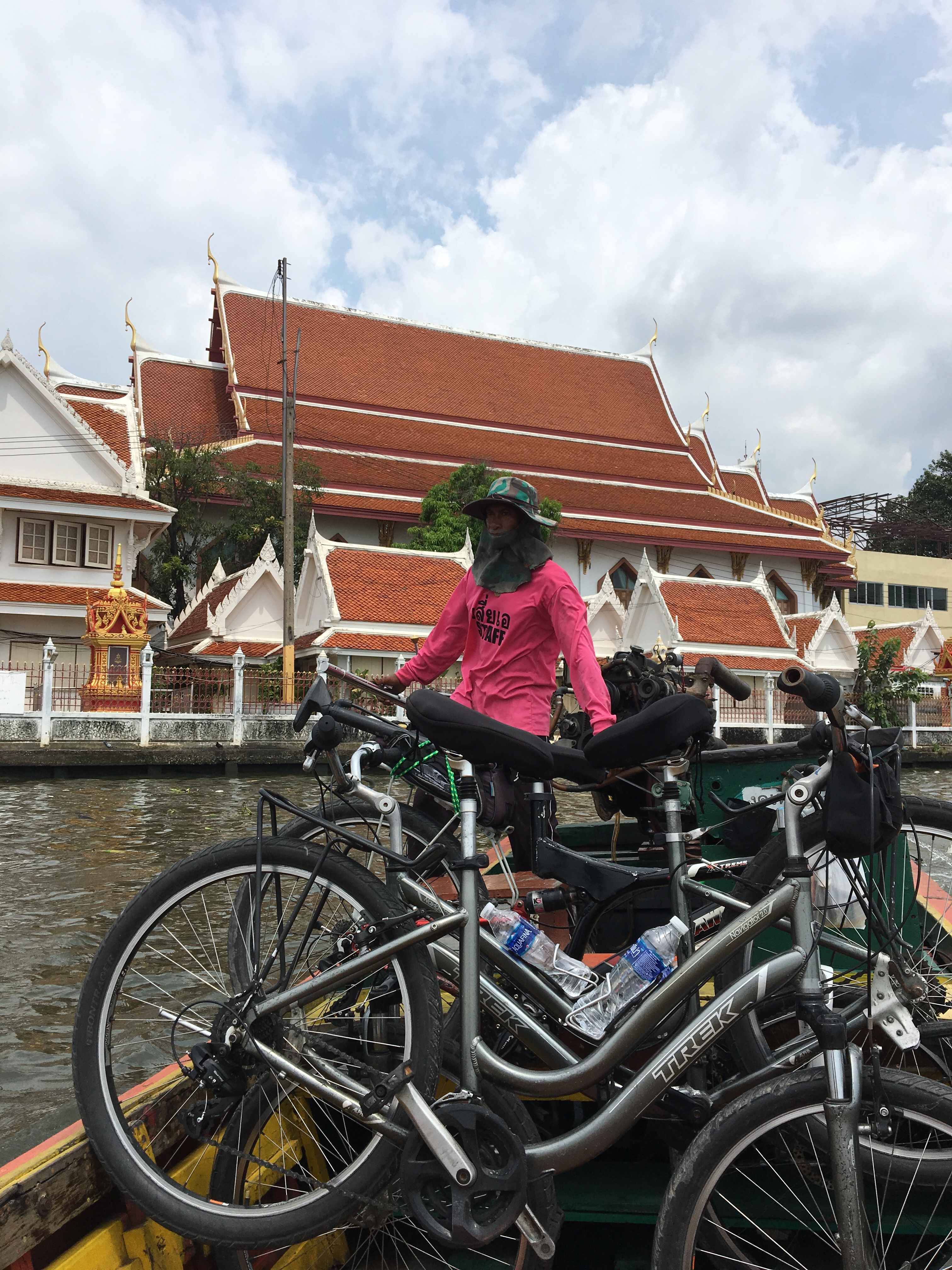 Above- A network of canals and the meandering river mean ferries are a part of the transport mix, too.
Above- Typical Thai cyclists – a few MAMILs are in evidence, too: below.
Face masks and balaclava-style face coverings (to avoid excessive sun) are common.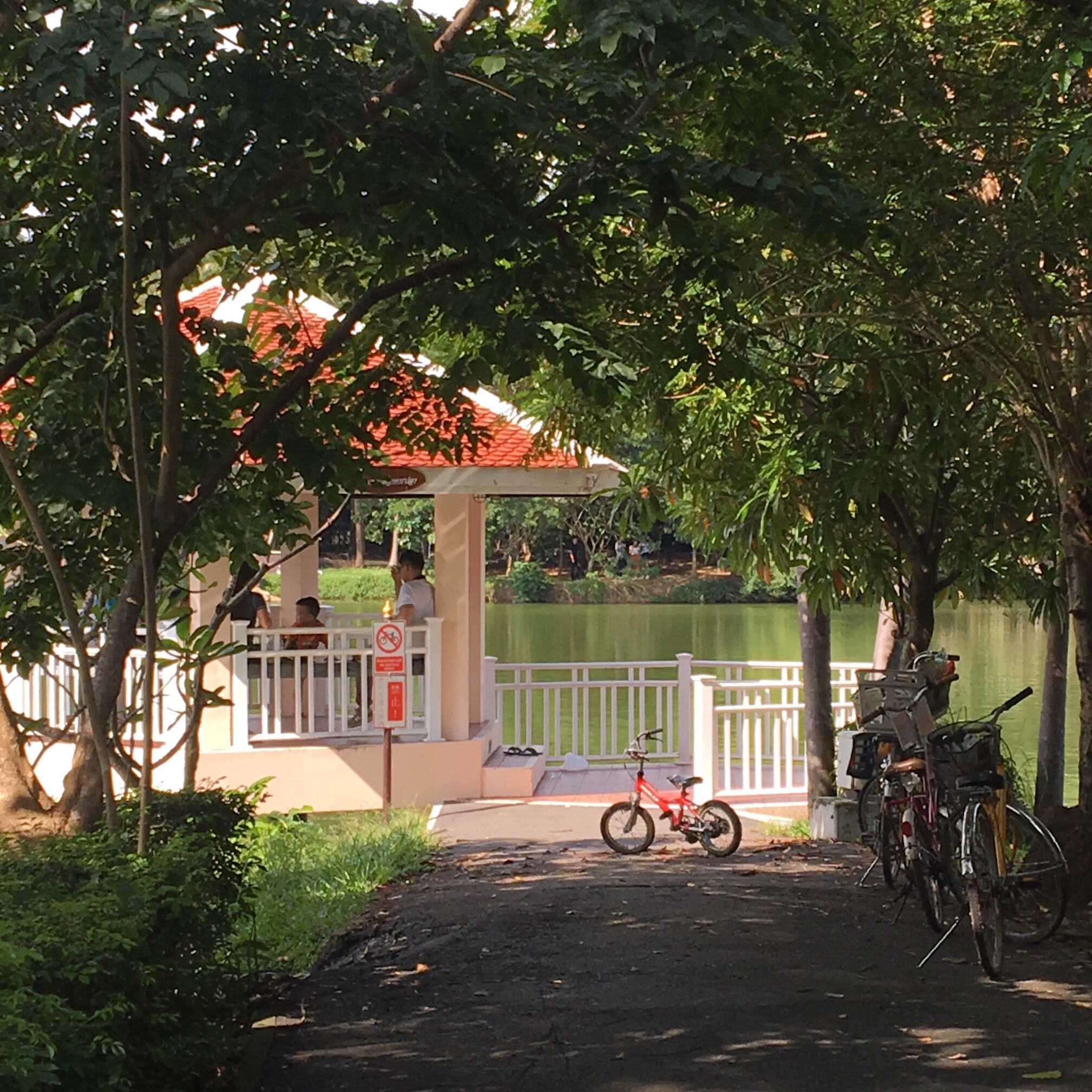 My bike tour with ABC Cycling, on a public holiday, showed there's a good demand for leisure cycling: A family picnics in the 'green lung' of Bangkok, the Bang Kachao district….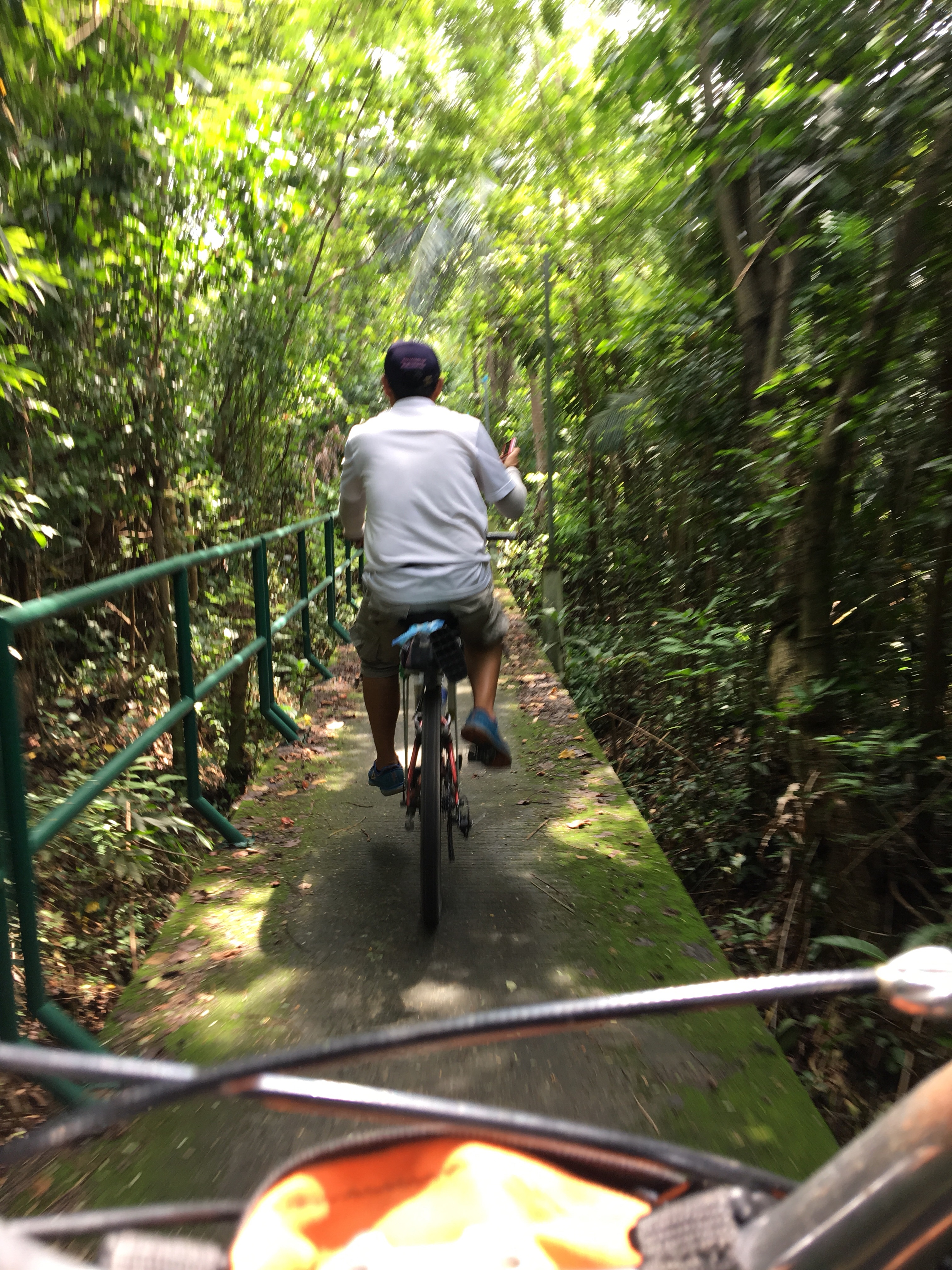 … where there's an extensive network of raised paths through the swampy Bang Kachao (above)
People just love the feeling of cycling!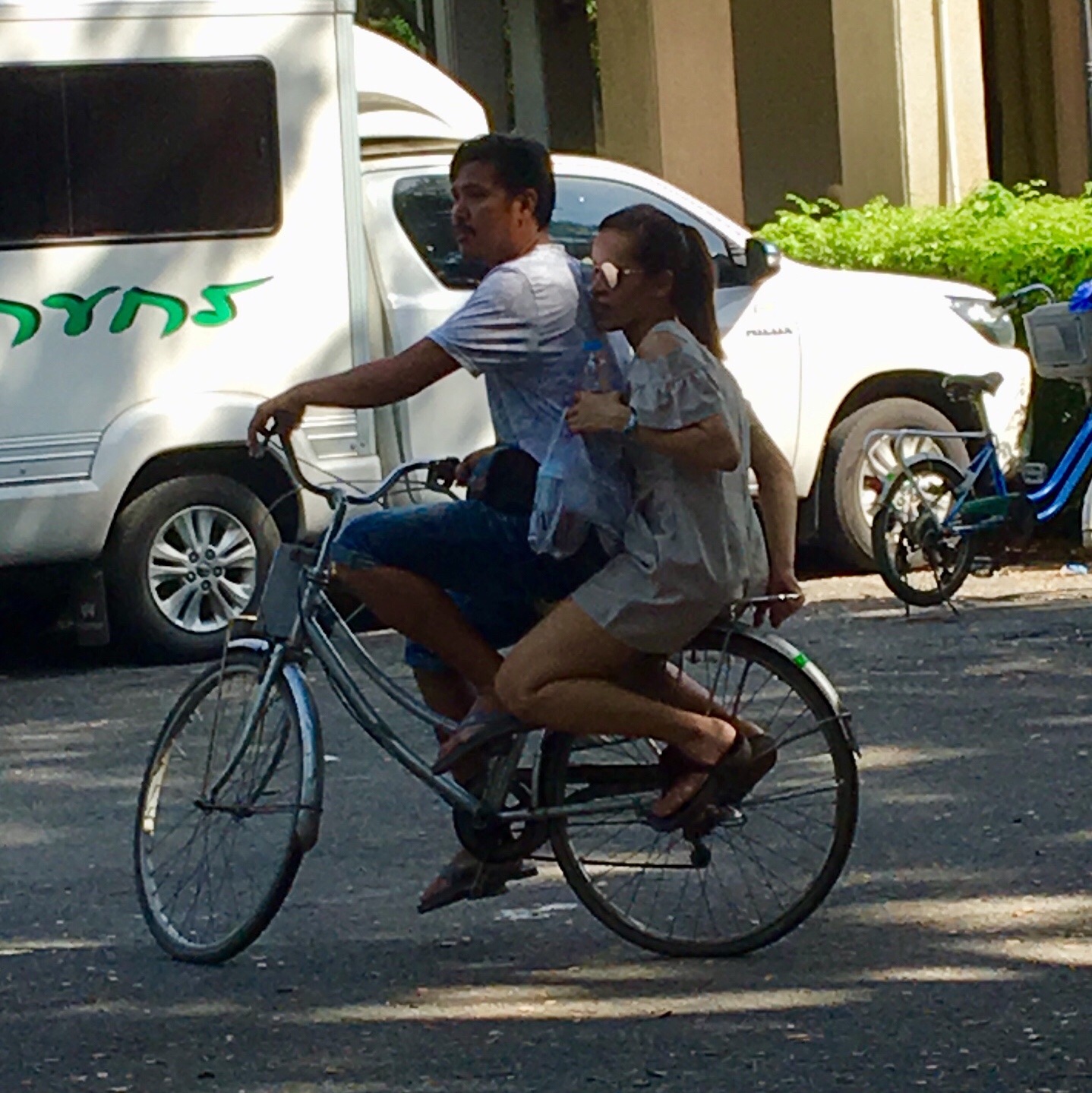 [What's this trip about? See here]