In the context of major construction works in the central city to accommodate a new tram line, Luas Cross City, the 2015 Dublin Transport Study made several progressive proposals.  I've made the following personal submission.
Dublin Transport Study
1.3 Preamble
The overarching aims of the study are highly commendable. Study after study of cities and transport policies show that provision for private car use -which currently dominates our streetscape- damages local economies, stifles economic and social growth, and damages the quality of public space for everyone.
To set out a logical and coherent framework for transport is highly commendable.  Various schemes, notably Dublin Transportation Office plans beginning in the late 1990's, have made similar proposals for transport integration and it is high time that they are enacted.
3  Challenges and Requirements
3.3  Cycling
The Study cites two measures which have already been implemented for cyclists in the city: the Grand Canal route and the Drury Street carpark.  It's notable that, in the city itself, cyclists are today still presented with the same multi-lane, one-way system that has prevailed for over two decades.  Even the recent Grafton Street Quarter designs failed to grab the chance to provide cyclists with a good environment.  The city centre has an extremely hostile environment for anyone thinking of using a bicycle, and the Study's proposals go a long way towards a solution.  Cycling must be kept in mind during all phases of development.
This is not to gainsay the NTA's stated 'hierarchy of road users' which gives pedestrians the highest priority -a logical approach given the existing modal split (p. 16).
3.5 Dart Underground is conspicuous by its absence in the Study.  Allowing heavy rail to link up from north to south and connect with Luas and bus services is surely crucial.  Potential future implementation of Dart Underground must be a long-term goal.
The Study's emphasis on inter-modal transport is commendable.  Integration of public transport ticketing should be accelerated to the highest international standards.
3.6  The Study's focus on reducing through-traffic is commendable, particularly in private motor vehicle modes.  Building on the existing orbital route system will yield capacity benefits.
4  Rebalancing provision of space 
By freeing road capacity for more efficient modes, It's clear that the Study's measures and policies will result in additional transport capacity both within and into the city centre.  The influence of carpark owners must be confronted.  Adjustments to carpark entrances is a good idea to allow private motor vehicle access without damaging the quality of urban space.
Studies in New York before and after cycleways were installed showed up to 49% increase in retail sales on 9th Avenue, Manhattan, as well as the intended road safety improvements: 6  Inter-modal transport connecting bus rapid transit with cycling must be facilitated with cycle parking at stations and high-quality links to busy cycling routes.  Cycle parking strategies analysing demand at stations and potential provision should be prepared as part of the Study.
7  The work of Dublin Cycling Campaign in analysing street layouts for Luas Cross City ought to be carefully examined.  Attaining a 15% modal share is not best supported by the designs as they stand, the quality of offering for cyclists is not high enough.  Taking full advantage of the features of cycling by allowing contraflow travelling etc. will be necessary.
8 The Study needs to highlight the difference that getting more people to walk and cycle can make to the overall health of the City. These new proposals need to be included within the Healthy City Dublin agenda.
8.2  The network of cycle routes shown is commendable.  Contraflow cycling on the well-known desire lines should have been provided decades ago.  Cycling through the new pedestrianised Suffolk Street should be accommodated.
Consideration of bicycle parking is laudable.  Inconsiderate bike parking will increase as an issue and must not be allowed to discourage walking or accessibility, or to become another stick used by regressive commentators to incite hostility against cycling.  Thus a fair enforcement regime may be worth considering.
The work of Dublin Cycling Campaign on bicycle theft should inform the Study.  Theft discourages cycling to a significant degree.
10.3 Public Transport
The concept of enhanced transport interchanges is commendable.  It must be noted that bus predominance in the city centre is proving an issue for cyclist, with the 'wall of steel' effect (buses end-on-end parked or moving slowly) damaging the quality of street users' experience and perception of safety.  Completion of the rationalisation of routes, in line with NTA's work based in turn on Aris Venetikidis' studies, is urgently needed so that most routes avoid the core.
The coach parking facility proposed will also help alleviate this effect.
The quality of driving (levels of consideration for others) is critical for vulnerable road users.
10.4 The overwhelming public support for the Liffey North Quay cycle route must surely encourage Council to implement this plan urgently.  It is very uncomfortable to travel east-west through the city centre on a bicycle now.
10.4.5  Taxis and enforcement 
To provide for even more taxis in the central city area appears counter-productive considering that over 10,000 taxis are already causing saturation of taxis on the streets.  Taxis overspilling ranks and parking inappropriately must be dealt with by unbiased enforcement, as for other unlawful or inconsiderate road use.
Gardaí have shown reluctance to fully enforce the regulations around drivers parking on cycle lanes (communications with Dublin Cycling Campaign, July 2015) so some consideration of enforcement, whether in conjunction with Gardaí or with a force of parking wardens, ought to form part of future plans.  This might apply also to the 30 km/h zones which are widely flouted currently.
11  Benefits and supporting evidence for Study-
There is overwhelming evidence nationally and internationally, professional and academic, that progressive urban strategies in the same philosophy as this Study make more economically successful, attractive and liveable cities.  The Study will assist Dublin to align with the policies of the 2002 National Spatial Strategy, the 2010 Urban Design Manual, recommendations of the Irish Planning Institute, and other bodies.
The health benefits for citizens potentially released by the Study's proposals deserve highlighting. The UN's Health Economic Assessment Tool might be employed to evaluate these; the economic benefits of improved population health are immense, and calculating those in fiscal terms may be helpful in promoting the Study's aims.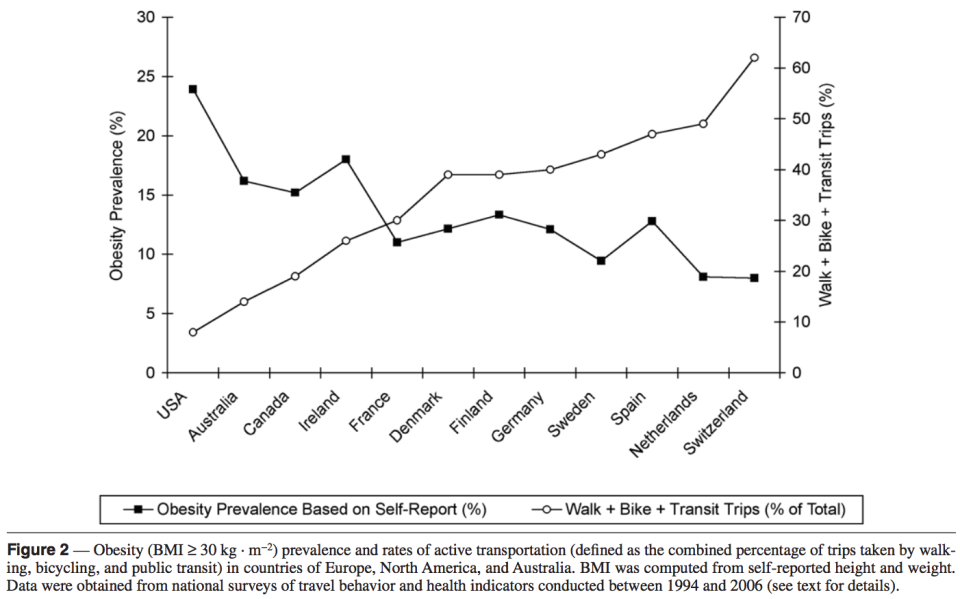 Graph from Bassett et al. Journal of Physical Activity and Health, 2008, 5, 795-814
Other documents which set out health-benefit reasons for reducing private motor use are-
IPH 'Active Travel, Healthy Lives' 2011
Town and Country Planning Association of UK's 2014 report 'Planning healthy-weight environments' which evaluates the health benefits of good planning and transport measures
Irish Heart Foundation's 'Building Young Hearts; Physical Activity, Young People and the Physical Environment', 2010
Finally
to repeat a central point- the predominance of multi-lane one-way streets throughout the city centre is an immense barrier to the liveability of the city.  In reducing this predominance the Study will do a great service to the people of Dublin.
Timescales and realistic budgets should be presented to the public at an early stage.