Every second year there's a global get-together for all those interested in the promotion of cycling. Transportation experts, mayors, town councillors, consultants for 'liveable cities', documentary film-makers -and of course cycling advocates- attend the Vélo-city Global Conference.
The European Cycling Federation organises the event, and this year it was held in Taipei, Taiwan. VéloCity Global alternates with the European-focussed VéloCity Conference. Next year this event will be in Nijmegen, Holland – the home of cycling for entirely different reasons, and the next VéloCity Global will be in Rio de Janeiro.
Reasons for sending a delegate are several – it can help to keep in touch with cutting-edge ideas, benchmark ourselves against what's happening overseas, to deepen contacts with overseas groups like ECF and the World Cycling Alliance, and to get advice from more experienced minds – I spent time with Kevin Mayne to discuss the Development Officer's continuing work, for example.
Themes
Industry was one of the major threads this year. It was good to witness well-thought out presentations from the big bike manufacturers, showing an understanding the benefits of transportation cycling and the measures needed to get people to swap car journeys for bike.
Another theme was familiar from the previous conference in 2014- hearing extended lessons from 'leader' cycling countries. We had a huge Dutch display area in the lobby, Danish speakers, a joint 'Cycling Embassy' session including the Germans, and talks from many luminaries and leaders of these countries' cycling cadres. It seems remarkable how the political & public contexts in northern Europe differs from Ireland, where public and political support of unrestrained car use seems much stronger.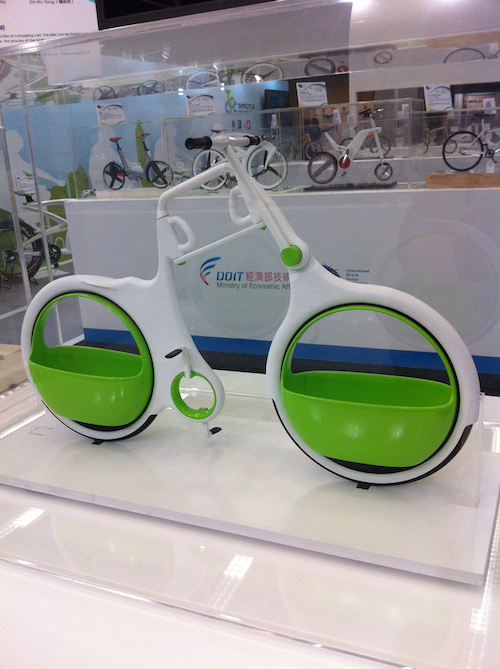 Some highlights-
Items that made me say 'wow' and grab my pen included-
German advocacy network ADFC's description of their Fahrradklima-Test- a national survey of cycling quality in each city asking, How does your city feel to cycle in? Hundreds of German cities are listed, with online results for each. It has all sorts of uses, especially in showing 'climb' of cities up the ratings. An NZ version could be good motivation for mayors & councils, don't you reckon?
Joshua Hon, head of Tern, a reputable maker of folding bikes. Tern have carried out joint projects with Italian and German train companies demonstrating how folding bikes can combine in all sorts of ways with trains. Joshua mentioned the 'Brompton Dock' in a British railway station , where you can rent a Brompton from a bank of storage boxes just by swiping your credit card.
Taiwan's Deputy Minister of Ministry Of Economics Affairs Shih-Chao Cho – Taiwan's production now 3,750,000 units per year – half what it was in 1990's, but value of exports is much higher. Taking the 'cycling lifestyle' seriously. Research considered crucial & well funded by Government.
My favourite moment of the conference wasn't to do with industry at all, but came from the wry Scot Ricardo Marini, a director at Jan Gehl Architects,- 'Since Taylorism, the efficiency of humans has become more important than humans'. Strikes a chord not just in transport terms.

Interesting Speakers-
As an advocate, it was wonderful to see Jiajun Chen, Zoey Wong and their colleagues from Bike Guangzhou. They are reputedly the only independent cycling-advocacy group in China. This is impressive both because the huge recent development in China seems to have resulted in reduced cycling mode share, and because of emerging stories describing the regime's resistance to criticism. See their Facebook page here.
Message- Admirable courage.

Manufacturers
King Liu of Giant bikes- Mr. Liu drove creation of the huge You-Bike share system in Taipei -against governmental, public, and press scepticism- and now it has the highest bike turnover in the world at over 8 uses per bike per day. King Liu had an amazing cycling record himself, having first completed the Circuit of Taiwan at age 72, and then beating his record at age 80.
John Burke, president of Trek, made a quite passionate speech outlining benefits of cycling. He's been supportive & generous to advocacy groups for many years.
'They are also fun', said Bosch's Claus Fleischer, promoting electric bikes. Apparently Bosch calculates a good profit margin from providing motors and batteries for eBikes, and is seeking out business opportunities in 'connectivity- GPS, charging, theft, gear-changing. 'Last-mile' cargo bikes, often e-powered, are a burgeoning market in Europe where cities are introducing more and more controls on commercial vehicles in CBDs. Herr Fleischer spent some of his talk arguing for e-bikes to be accommodated in infrastructure; the Dutch are doing this already, but it does raise some issues with infrastructure and the need to set a system for regulation of the vehicles themselves.
Armin Landgraf from PON.bike was also interesting. PON are a Dutch distribution company who distribute BBB, Gazelle, Cervelo and other brands. His take was that each 'bicycle community' road racing, mountain biking, fixies requires a slightly different marketing approach. PON also distribute vehicles, engines, tyres etc., and run a €7bn turnover with employees on each continent, so it shows the potential muscle behind the industry. It seemed to me that ECF have worked hard at getting such guys alongside advocacy organisations but it would be wise for the industry to step up its contribution to advocating for better cycling provisions.
Joshua Hon, head of Tern -a major folding-bike manufacturer- described joint projects with Italian and German train companies. The 'Brompton Dock' -rent a Brompton by credit card swipe from a bank of storage boxes.
Mark Sanders, director of MAS Design Products, says the industry is mainly focused on the 20% of the population that is already into cycling, mostly sports cycling, where the industry players practically kill each other like sharks- a so called 'Red Ocean' Strategy. He advises the industry to take a dive in the 'Blue Ocean'- target the 80% of the population that has not taken up cycling yet and adapt products to them, keeping it simple, clean and also fun (quoting from ECF's report).
Messages–
Industry can be a powerful ally of growing cycling.
E-bikes are seen as a profitable market; this can be a double-edged sword and advocates must take care that this doesn't tilt provision too much towards faster more powerful bikes.
Industry's turnover is huge compared to advocates' and is only going to get bigger. ECF are 'cozying up' to industry in a strategic and deliberate fashion.
Those 'leader countries'
Morten Kabell, Copenhagen 'transport mayor' and official Marie Kåstrup
Some stark facts emerged about how Copenhagen became what it is today-
History- Danes insist that 1970's change (from enthusiastic provision for cars on city streets) came about 'bottom-up' from residents not from cycling advocates, academics or politicians.
Only 9% of city-centre residents commute by car;
Copenhagen city alone spent DKR 1 b (about NZ$200m) in 2010-15 period on cycling infrastructure & promotion;
Copenhagen city administration has carried out biennial surveys of cyclists since 1996, including studies on socio-economic benefits including economic activities of transport mode and shopping by bike;
And finally, Copenhagen city official Marie Kåstrup still needs advocates to help argue her case against retrogressive elements. They still have arguments over removing parking!
Message– Leader countries did and do have different cultural contexts to Ireland's.
More inspiration came from Saskia Kluit of the Dutch Cyclists' Federation-
Dutch teenagers get free cycle training in schools as well as kids
Dutch cycling infrastructure design is now taking account of average e-bike range of 15km. 'Slow lanes' and more forgiveness/ crash protection is being built into bike lanes.
Message– Keep investing (a lot more!) and keep learning.
From Asia
Julia Nebrija, World Bank planner from Manila-  Julia described the chaotic growth of that mega-city. Very little cycling provision, little traffic law enforcement, perennial endemic gridlock, and 25,000 new cars on their streets every month.
Message- Town planning is a critical human-rights issue.
Finally, interesting that Thai Cycling Club have 600,000 cyclists participate in their annual Bike for Mom and Bike for Dad days (bike rides in honour of king & queen)!
More info?
The official website is here, and you can download the full programme here. Go to ecf.com to keep track of future conferences. ECFs' own reports are here, with day-by-day accounts linked at bottom of page.  My report for CAN is here.
Conclusions-
Industry can do more to help the shift from car to bike trips. Some companies have been supportive, more need to get along the effort. Cyclist.ie must try to make this happen in Ireland.
Next year the Europe-wide edition of VéloCity will be in Nijmegen, Holland – the home of cycling for entirely different reasons. The next VéloCity Global will be in Rio de Janeiro in 2018.
All in all, a pretty fascinating, inspiring and informative few days. Hope this report has been of some interest. Don't hesitate to contact me if you'd like more information:
Will Andrews. cycling@willandrewsdesign.com. 2016- March 25th.
Costs for conference and travel were shared by cyclist.ie, New Zealand's Cycling Action Network, and my own funds. Presentations to the conference are available here.