I took some snaps of the beautiful cyclists of Barcelona -2016- May and June.
The experience of cycling here seems a bit of a patchwork, as in many big cities.  Some segregated lanes have been built, some two-way -at the side of larger streets, or sometimes along the street centreline.  But a typical ride would seem to involve a bit of painted lane very close to moving cars & vans, up & down the footpath for a few hundred metres, a quiet street where you'll roll slowly to share with pedestrians, and some nice segregated lanes along a multi-lane arterial road.  Then you'll be left to fend for yourself on a stretch of one-way road, sharing with buses and trucks.
[Continues below image]
Above- Great to be young & on a bike!  Much of the Born and Barrí Gotic areas are 30 km/h.  Streets there are so narrow that enforcement seems to be unnecessary.
We stayed in the well-heeled Eixample district and cycled only 20 or so km- through the Born historic district, to the port, and along the beach.  So I can't say much about how it feels to cycle round the city's various neighbourhoods.  But I looked carefully at cycling infrastructure and how cyclists seemed to be faring.
Cyclists did seem to be considered at every turn (literally; every turn, junction and intersection) as well as on mid-block sections.  Quality of service varies depending on the usual factors of road usage, space available and traffic type, but my impression is that you'll be aware there's some provision for you at every section of a journey; you're a respected road user whether on a tram, bus or bike or in your car.  But you won't have it all your own way to go as fast as you like wherever you like; this is a big city and everyone must compromise to some extent.
Where lanes for cyclists haven't been made for whatever reason, you'll find yourself on the main carriageway or, often, trundling along footpaths in official-looking painted lanes which then disappear, leaving you to either dismount or negotiate that wonderful slow-dance with pedestrians we all know so well.  This isn't as trying as it might sound: in a compact city of three million both cyclists and pedestrians seem resigned to sharing what's inevitably limited space, so cyclists move slowly and as a pedestrian you know to tolerate them and keep to the side where there's space.
More importantly, those creating risks for cyclists – the motor vehicle drivers of BCN – seem to be relatively tolerant and careful.  This tolerance is accompanied by confidence on the part of the cyclists, consideration for and from pedestrians, and much official support and promotion of safe road use.
Cyclists' confidence is reflected in the style and glamour of a lot of the cyclists you see:  Elegant Dutch bikes and trendy fixies abound, as well as a big cohort of retro 80's 12-speeds and mixte frames.    I'd reckon helmet use ratios at well less than half; probably more than a quarter and don't remember seeing any hi-viz clothing (clothing in general seemed to be frowned upon!)
[Continues below image]
The short traffic-signal cycle times made it no bother (compared to my native Dublin at any rate) for pedestrians and cyclists to wait obediently for their green signals.  Some of the traffic signals are specifically for bikes.  Mode share for non-motorised transport was a respectable 55% in 2014 -cycling share was just 1% in 2006 so even without direct comparison this represents a huge improvement- and it does feels that cycling is an accepted and respected mode of transport.  Serious political support and funding for infrastructure are evident on the street.
[Continues below images]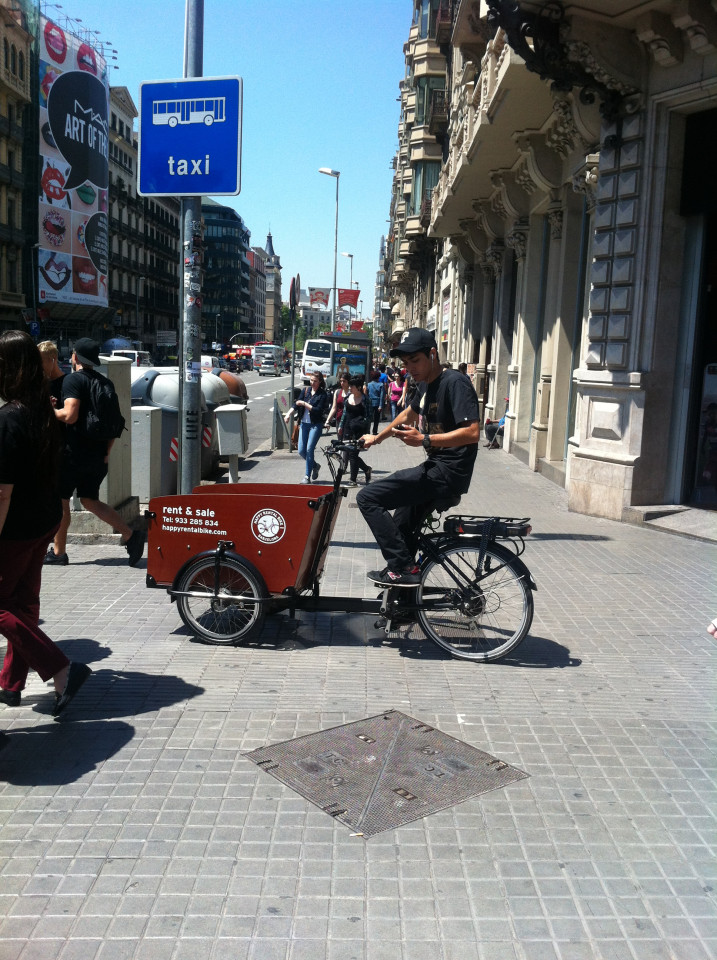 Above- Bikes for transport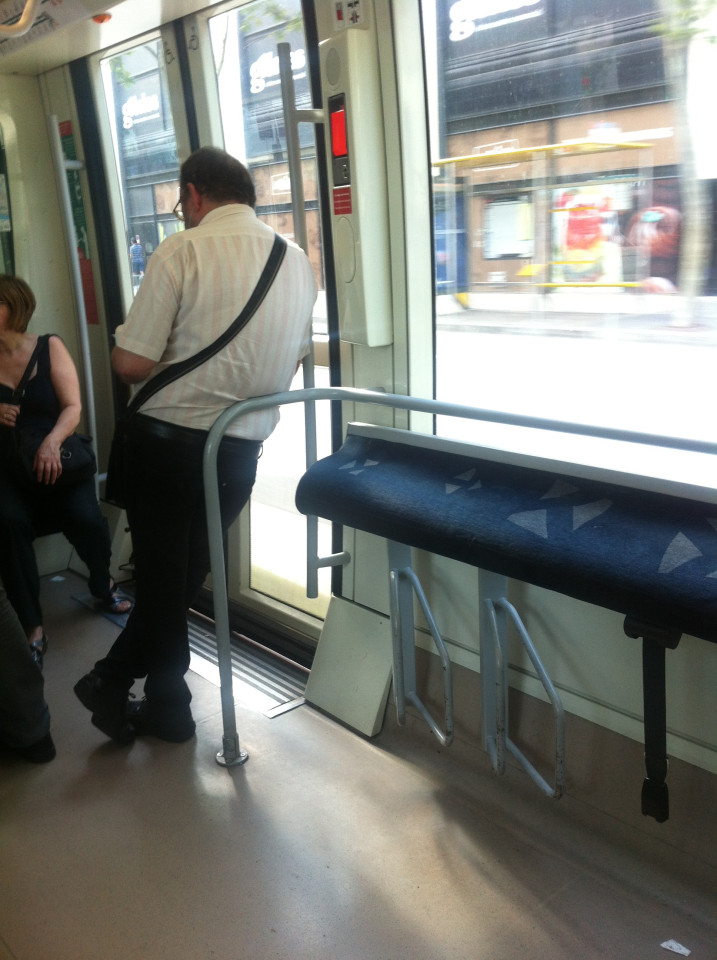 Above- Bike rack on tram
Above- Serious political support and funding for infrastructure are evident on the street.  Google translates the yellow Catalan text as 'Parking within the office. The bike. The best idea in the world.'
[Article continues below image]
(Above) 'Bicing' rental bikes are absolutely everywhere.  Sadly for me I was told that proof of residence in Barcelona is needed before getting a lease agreement.
[Continues below image]
Whether due to Council-sponsored promotion or because  apartment types here don't allow a huge amount of storage, Bromptons and other folding bikes seem very popular.
[Continues below image]
The obvious enthusiasm on the part of both authorities and citizens for shifting journeys onto the bike must surely be a major factor in the proposals for 'Superblocks' which exclude much motorised through-traffic from many streets.  The motivation for this policy was obvious to me during rush-hour: fumes from cars and scooters were quite noticeable.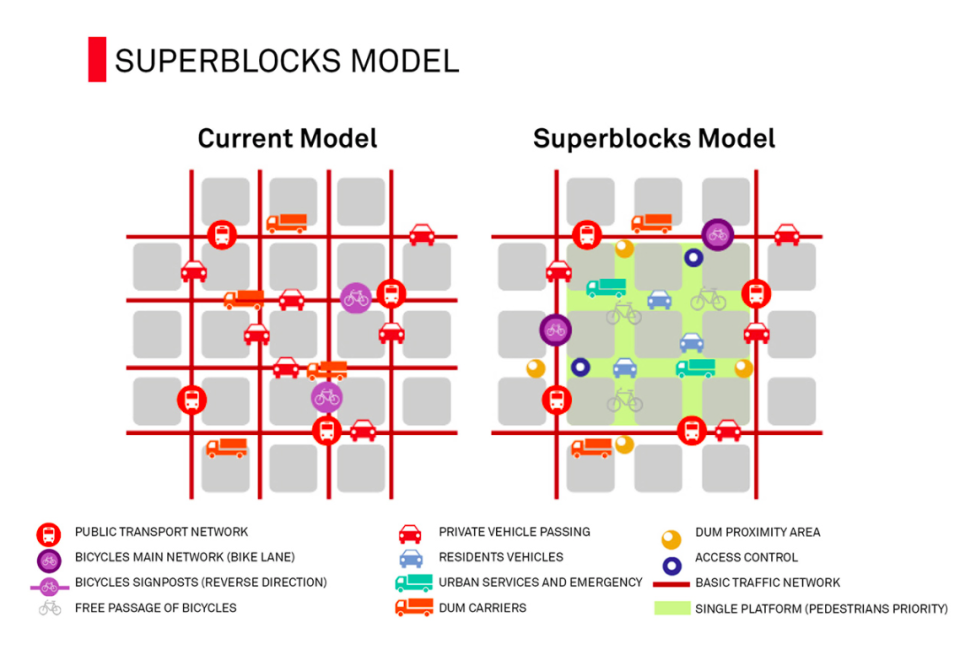 Above- Screenshot from via fastcoexist.com showing Ajuntament de Barcelona infographic.
But the best thing I saw in Barcelona?  The gender balance, it's really amazing- lots and lots of male cyclists, but to my guess, just as many female.  Both women and men appear to feel safe using bikes for transport in a relaxed & functional way.  Heartening.
Above-Yep the beach is quite delightful.  Actually, in warm spring sunshine, the whole city is a delight.
Above- Another advantage of fixies I suppose – imagine lifting a heavy Dutch bike up there… Cycle parking seemed plentiful at street-level in Barcelona, but often looked over-subscribed; a city this dense will always have to think carefully about its use of space.
Above- Cycling culture includes BMXers and even a few mountain-bikers (where they found mud & dirt in the middle of such a clean & civil city, I haven't yet found out!)
Above- The shared signal light for pedestrians and cyclists can be seen here.  Cycle times are short which seems to lead to good (though not perfect!) compliance rates.
Above- Extract from Ajuntament de Barcelona (Comparable to City Council) mode share figures.