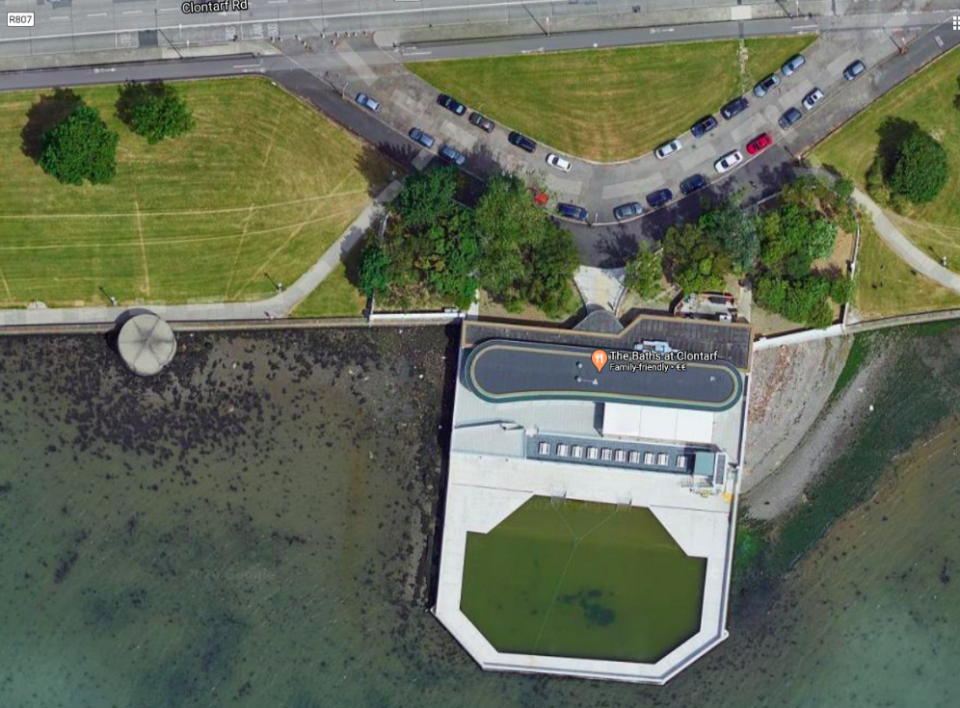 Observation on planning application for new car parking and access layout – Dublin City Council reg. ref. no. 2355/20
Thanks to the Council for the opportunity to comment on this Application. The Applicants are to be commended on their restoration of the old swimming baths and the construction of a well-designed contemporary building by Noonan Moran in a manner sensitive to the Dublin Biosphere and Birds Directive site. However the current application raises one or two issues that I would like to comment on, as someone who lives nearby and who swims and cycles regularly around the Bay…
The Baths are an inner-suburban area less than an hour's walk from O'Connell Bridge. Only 1.8km from Killester Dart station, the site is served by several high-frequency bus routes and likely the busiest cycle route in the country. Thus, to comply with Dublin City Development Plan objectives of tackling Dublin's chronic car dependency by shifting journeys to sustainable modes, it ought not require more than a handful of parking spaces for elderly or less mobile visitors.
Appropriately, the provision of 15 car parking spaces was applied for in the original application (2975/11) and 15 were permitted by An Bord in its final Order in 2012. However, the image submitted with the subject application shows 28 cars on site (in clear breach of the planning orders). Considering that any swimming use is to be secondary to the restaurant use according to An Bord's Condition 1, and swimming is only permitted through the auspices of a private club (per thebaths.ie, viewed today), strong justification for an increase in car use that would require a doubling of permitted spaces should be provided by the applicants.
The design proposed here for entry to the site (Dwg PA-03) is appalling. The idea of taking one of the busiest cycle lanes in Ireland and making two severe bends in it, simply to facilitate motoring into a small and exclusive car park, should not be given any serious consideration by the Council. Ordinary Dubliners making their way along the coast deserve better. The Council has been rightly commended recently for belatedly filing in the missing part of this cycleway past the Bull Wall, so it's to be expected that this unfortunate site entrance design will receive short shrift in its ultimate Decision. In fact, both entry and exit points might be reviewed, to see how stacking space could be provided for drivers' vehicles waiting for pedestrians or cyclists to clear their path, as shown on this image: https://irishcycle.com/wp-content/uploads/2020/04/U6-entry.png.
Further, 3 metres cycleway width is sub-standard for the high cycle traffic levels here. The opportunity should be taken to widen it, even for the short stretch across the Applicant's site. The Departmental Report from Roads on this application might usefully set out the peak hour cycle counts for this stretch of cycleway, and calculations of relevant width. National Cycle Design Guidance specifications (https://www.cyclemanual.ie/manual/thebasics/width/) appear to me to require 5 metres.
It's commendable that an attempt is being made to sort out the current haphazard arrangement and informal parking, and I trust the Council will ensure, by applying reasonable conditions to any permission, that any development based on this Application provides fairly for all Dubliners. I trust also that enforcement of any landscaping proposals and road markings will be followed-up thoroughly after the construction stage.
Submitted 2020- April 7th.
Link to planning application page.